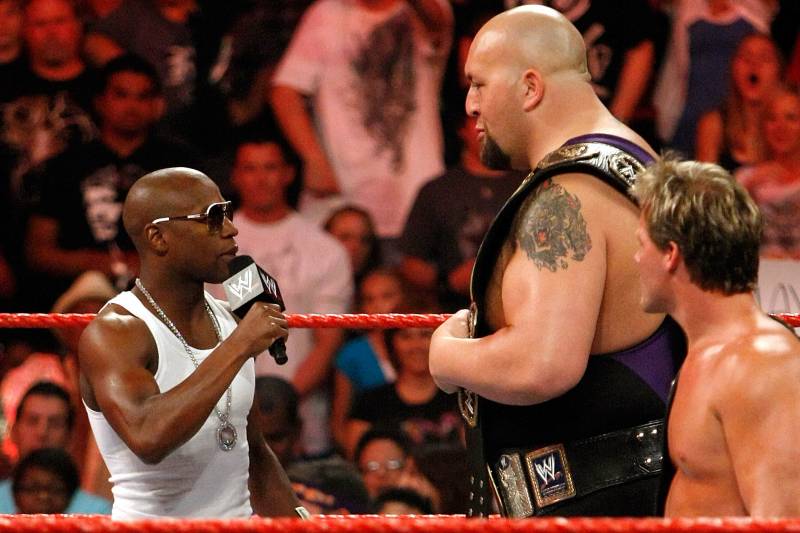 Ethan Miller/Getty Images
Floyd Mayweather's achievements in the boxing ring are well-chronicled. 49-0. Wins over nearly all his greatest contemporaries. A dozen or so titles.
But what about his achievements in the wrestling ring? Lost in the discussion over legacy and records is Mayweather's brief run in the WWE and the fact that he had one of the best "celebrity" matches in the company's history.
The year is 2007. After defeating Ricky Hatton, Mayweather takes a lengthy hiatus from boxing in an effort to spread his wings across the combat sports world.
In the MMA realm, he works as a personality on BET's short-lived The Ultimate Fighter lookalike Iron Ring. In pro wrestling, however, he teamed up with WWE for a major feud at WrestleMania 24 opposite the Big Show set up by Mayweather legitimately breaking Show's nose at No Way Out in February 2008.
With Mayweather still the biggest name in boxing, the match is instantly one of the hottest on the card...but this wasn't unfamiliar territory for WWE fans. Celebrities showing up and working matches wasn't new, but for every Lawrence Taylor vs. Bam Bam Bigelow there was a David Arquette waiting to leave fans shaking their heads.
While there was reason to be bearish about the quality of this match, it shook out to be a solid one, as Big Show (who was a heel at the time) reveled in physically bullying Mayweather, while the boxer used as many dirty tactics as possible to make up for it. The end came after 11 minutes when Mayweather's entourage set him up with a chair and brass knuckles, allowing him to take the win via knockout.
The odds are that Mayweather's bout with Conor McGregor this Saturday won't end with his crew storming the ring and chairs getting thrown around. Though, it wouldn't be the first time for either of those things.