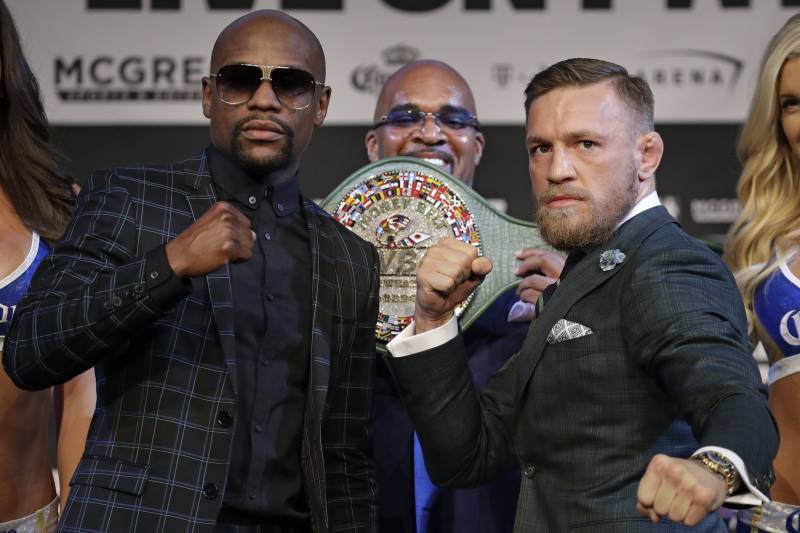 John Locher/Associated Press
After months of build-up, Conor McGregor and Floyd Mayweather Jr. will consummate their deal to punch each other's faces and collect copious amounts of cash. 
The matchup between the two has crossed the threshold of mere boxing match. It's a spectacle. A must-see event. The kind of fight that usually only gets talked about and debated, not allowed to give the average fight fan the closure of results. 
Fight fans have seen high-level boxers attempt to cross over to MMA. An athlete like McGregor looking to capture boxing fame after proving his worth as an elite mixed martial artist is brand-new. 
As with many Floyd Mayweather opponents, fans have their reasons for thinking the Notorious can pull off the upset. He's big, he's younger, he's a southpaw, he's got legitimate power. The list goes on. 
But none of the opponents before him have been able to shock the world. Now millions will tune in to see if McGregor is truly the guy to get it done. Here's a look at the tale of the tape between the two, a look at what can be gleaned from their past fights and a final prediction for this superfight. 
How McGregor Got Here
Conor McGregor's record in the cage is 21-3, but that only tells part of the story. He didn't just get to this massive fight and pay day on the strength of his record. Truth be told, there are several MMA fighters who have had better records. 
Anderson Silva, for example, was a champion for much longer in MMA. Although the rumors of a boxing match with Roy Jones Jr. always lurked in the shadow, it never came to fruition. 
There are two reasons why this fight is happening for the Notorious. 
One, he has a skill set that few in MMA have shown in the cage. His legacy as an elite featherweight and lightweight has been built on his excellent striking, and 18 of his 21 wins have come by knockout. Of those knockouts, the overwhelming majority have come from his punches. 
More important is the second reason, though: McGregor's ability to flat-out sell anything he does. If McGregor said he could be the best in the world at sharpening pencils, he could sell at least half a million pay-per-views of him doing that for 30 minutes. 
He's the undisputed king of self-promotion, and this foray into boxing is the perfect example. 
McGregor went from being one of the top MMA fighters in the world to a pay day that many boxers chase their entire career. 
How Mayweather Got Here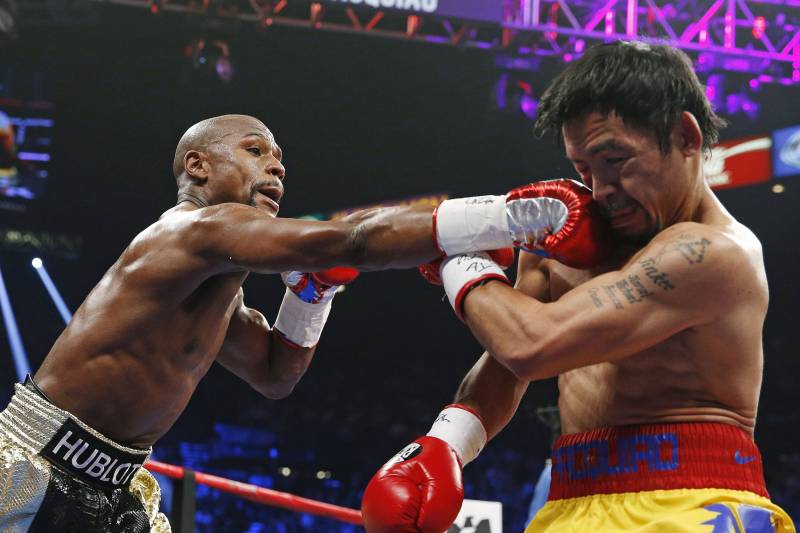 John Locher/Associated Press
Mayweather's record tells the story here. Money sits at 49-0 heading into the megafight and stands to make a crazy amount of money to add to his $700 million in career earnings thus far. 
Mayweather's marketability comes from the aura of invincibility he has created by going undefeated over the course of more than 20 years in the fight game. 
Money might not be the most entertaining fighter to grace the ring, but he's not so bad at self-promotion either. The 40-year-old has created an image of himself that is brash and controversial. Much like McGregor, it's hard to tell if more people tune in to watch the guy get beat than any other reason. 
Those who have hoped that Mayweather would lose have been disappointed. He's taken on a wide variety of boxers in a large swath of weight classes, and none have been able to figure out the Mayweather puzzle. 
In this case, Mayweather is coming off a two-year layoff. The last time he fought was Andre Berto in September 2015. Six months earlier, Mayweather finally took on Manny Pacquiao, leaving many fans disappointed with the lack of action in that bout. 
The wily promoter says it'll be different this time around.
"I'm doing this for myself and my family, but I want to give everyone a great show," Mayweather said, per Dan Rafael of ESPN.com. "Everyone deserves a good show. The Pacquiao fight wasn't exciting enough. That was on Pacquiao, but I have to give the fans a great show this time."
Take that as you will. Mayweather has made a career out of fighting to preserve his undefeated record. It's hard to believe he'll engage in a way that could put him at risk of losing that zero. 
Prediction
It's difficult to be certain about this matchup because we've never seen anything like it. Boxers have made the crossover to MMA, but we've never seen an MMA fighter of this magnitude fight a boxer as skilled as Mayweather in a boxing match. 
The first few rounds will tell the story. 
McGregor's inexperience could play as an advantage of sorts. Having never boxed professionally, he's going to have a different rhythm than most boxers with punches coming from different angles and unorthodox movement. 
Even seasoned boxers like Juan Manuel Marquez are curious as to how the early rounds are going to play out. 
But if McGregor finds himself swinging at air like so many Mayweather foes before him, he's in for a long night. Mayweather might not have the pop to put him away. The Notorious takes high kicks to the head and haymakers with four-ounce gloves; he will be wearing eight-ounce ones Saturday. 
Instead, Mayweather will give him the boxing equivalent of water torture. Drip by drip and missed punch by missed punch, Mayweather will take over as the later rounds progress and earn the nod on the scorecards. 
Prediction: Mayweather by decision