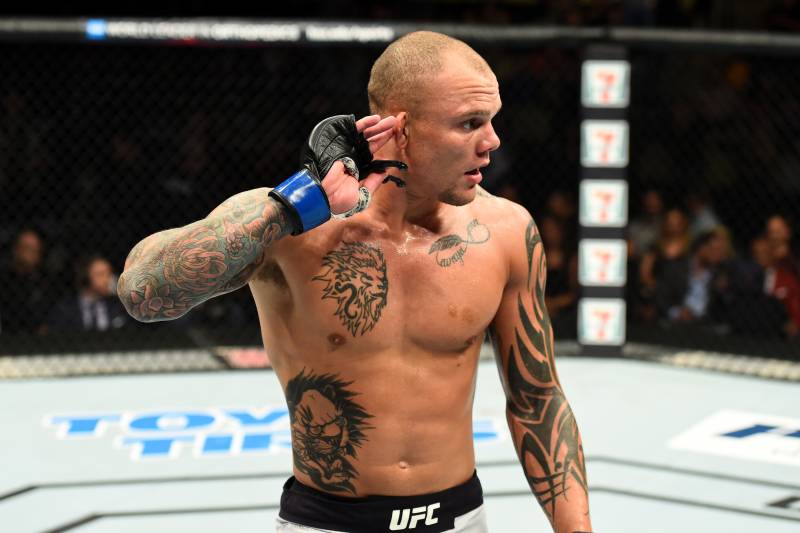 Josh Hedges/Zuffa LLC/Getty Images
It wasn't that long ago. Anthony Smith still clearly remembers the time when he and his girlfriend had to shake down the couch cushions for change so they could get something to eat. He also remembers the time when, as a younger fighter barnstorming the Midwest, he was asked if there was a middleweight he would refuse to fight out of pure fear.
He remembers how he answered the question, too: Hector Lombard.
Things are different now for Smith, thanks to a three-fight UFC win streak that culminated (for now) with a third-round knockout of the very same Lombard September 16 at UFC Fight Night 116. Granted, Lombard is now 39 years old and diminished in skill, but his name still carries value both for fans and for Smith.
"Someone asked who I wouldn't want to fight, and I didn't hesitate. It was Hector Lombard," Smith said. "He was killing it in Bellator back then. I think this was 2009. …I think I had put him on a pedestal. This win was probably my biggest accomplishment."
Smith's success, and the blunt-force muay thai style he's used to achieve it, is getting him noticed. He's been climbing the cards of late, from Fight Pass preliminaries to main cards on prime-time cable. He's knocking on the door of a top-15 ranking in the UFC's solid middleweight division.
It's been a pretty long road for Smith, who at 29 years of age has already racked up a 28-12 record during his pro career, which began in 2008. Much of it happened in volume, with Smith competing up to six times a year from Yankton, South Dakota, to Council Bluffs, Iowa.
"I've been chasing this dream for a long time," Smith said.
After fighting 20 times in three years and with a record of 13-7, in 2011 Smith got a call from the now-defunct Strikeforce promotion. He won that by second-round knockout. But the path remained circuitous.
Two years later he made his UFC debut but was waived when he lost, a damaging kneebar submission to blame.
More bouncing around followed, but the shows and the showings slowly got better, as did his skill set and fight acumen. When he returned to the UFC in 2016, he was on a seven-fight win streak, punctuated by a first-round TKO of UFC veteran Josh Neer.
Along the way, Smith appeared to increase his stamina and shore up his defense. It's the same approach that worked against Lombard: using his gargantuan-for-a-middleweight 6'4" frame (plus a 77" reach), Smith throws a diverse arsenal of strikes from range but is well-versed in any phase.
His career takedown defense percentage, according to stat keeper FightMetric, is just 44 percent, but he was able to do enough to keep the fight standing against Lombard—it is always interesting to see how Smith fares against opponents with takedown-heavy strategies. In either case, the engine that makes it all go for Smith is aggression and a sheer willingness to gut his way through difficulty.
"I force people to fight," Smith said. "I'm that guy for anybody in this division. You have to be a problem-solver in there, and I'm a problem-solver."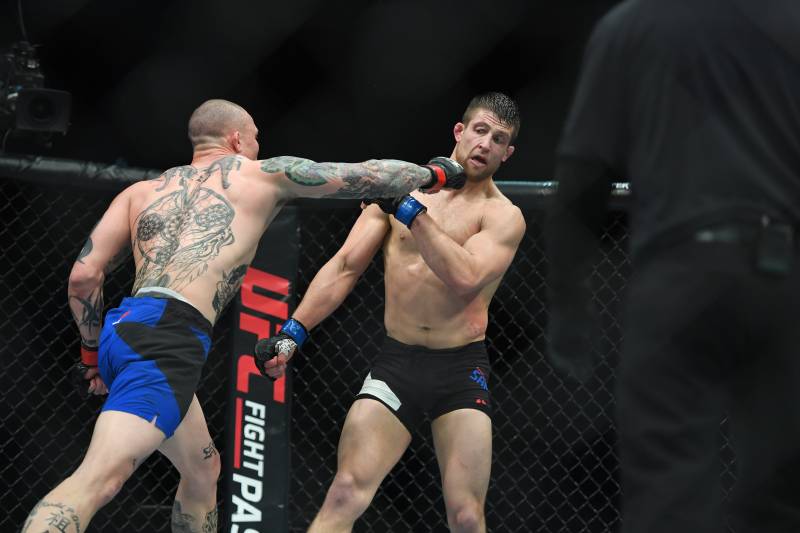 Ron Chenoy-USA TODAY Sports
But just being in the UFC, even winning in the UFC, doesn't change your life overnight. Those moments of destitution were relatively recent. Now, however, after years of toil on a host of different circuits, Smith, his fiance, and their three small children have finally found stability. 
"It's the little things for us," Smith said. "We don't have to scrounge for change to feed ourselves, there's no calculator out when we're shopping. It's nice to go to the gas station and fill up the tank without looking at the price. We can jump on a plane and go somewhere if we want. I still drive a [Ford] F150, it's just a little newer."
Smith also realizes, of course, that it's a smoke on the wind unless you can keep it going. That's why he wants a bigger challenge next time out. In particular, he calls out three other middleweights—Uriah Hall, Krzysztof Jotko and David Branch—who were also on the UFC Fight Night 116 marquee. If he doesn't get a ranked opponent next, Smith said, he may explore his options at 205 pounds.
If he had his druthers, though, he'd prefer to face Branch, the former World Series of Fighting champion who fell to Luke Rockhold in the evening's main event.
"I like how he fights," Smith said. "He's a tough dude, and he doesn't get enough respect for his style. There's no beef, we're cordial, but he has dismissed me a little in the past. Now that I've won and he's lost, the tables have turned. We're in each other's crosshairs." 
Branch is known for a more conservative style, but it could be that Smith is the right fit to compel him into a more uptempo game. After all, Smith has had plenty of experience willing himself to fight. How hard could it be to do the same to others?
"I never have a boring fight," he said. "It may not be the prettiest style, but I'm not here for that. I'm the toughest guy in the UFC."