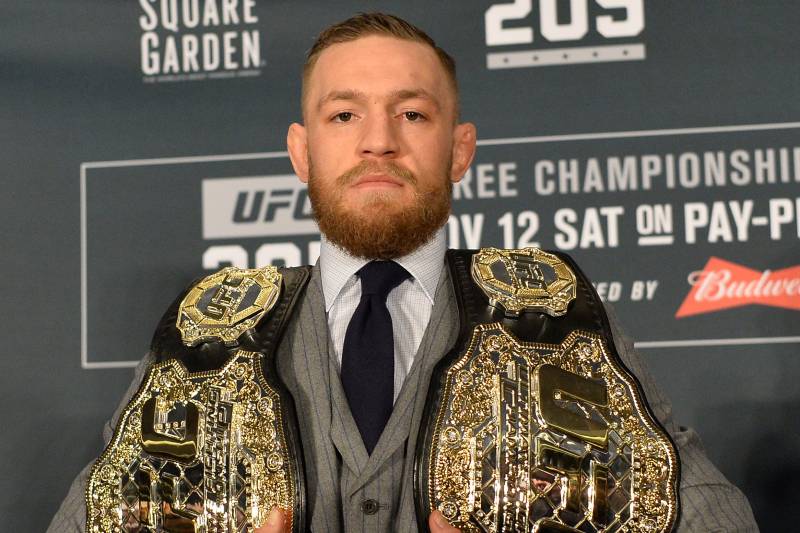 Brandon Magnus/Zuffa LLC/Getty Images
On Monday night, UFC president Dana White and his promotion's lightweight champion Conor McGregor announced that they'd struck a deal on the sharing of their side of a fight purse generated by a boxing bout with Floyd Mayweather. Normally, that would be the easy part of any negotiation—after all, McGregor is under contract with the UFC—but the stakes involved and the co-promotion ensured it was not easy. 
The match promises to be one of the richest in combat sports history, and confident in that knowledge and his role in such a mega-event, McGregor played hardball with the UFC, sidelining himself for several months with the understanding that the UFC needed his services as a cash-generator.
It worked, and in doing so, he has changed the game.
With Monday's announcement, he has accomplished the seemingly impossible by getting UFC brass to co-promote a bout with another entity, something that Randy Couture and others tried several times over the years with no success.
Whether McGregor gets the fight now—still no sure thing with a hard negotiation with The Money Team looming—he's already fundamentally altered the fighter/promoter dynamic to bend in his direction. He's also become the most powerful fighter MMA has seen.
Should both sides reach terms, a fight with Mayweather will only increase McGregor's stardom, leverage and strength. 
Joining me to discuss this ongoing saga and developing story is Bleacher Report Lead MMA Writer Chad Dundas.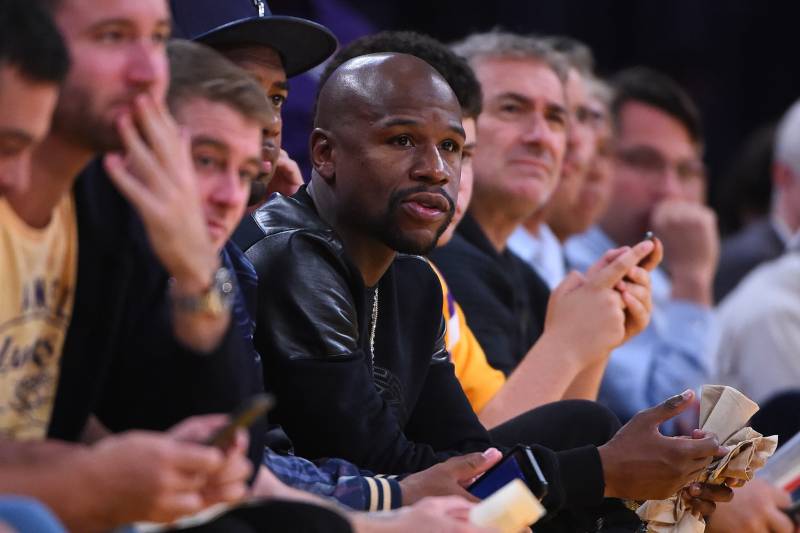 Jayne Kamin-Oncea-USA TODAY Sports
Mike Chiapppetta: Chad, it's starting to actually seem like we might be seeing this. This crazy long shot of a co-promotion. This bizarre spectacle of capitalism. This circus of the century. 
I will admit to being one who had extreme doubts about the ability of all parties involved to pull this off. I thought egos and purse splits would get in the way. And I have to also admit that I thought getting Dana White & Co. to sign off on it would be the harder negotiation of the two.
With that out of the way, there is a real path to this fight happening. 
Let's be honest. There is no other way Mayweather can make this kind of money again. He's 40 years old and he's been out of the game for nearly two years. His last fight, against Andre Berto, sold about a half-million pay-per-views, according to ESPN.com. 
But we're less interested in Mayweather than we are in McGregor, only because of what this will mean going forward, both for him and for the UFC.
In its efforts at a cash-grab, the UFC might have ceded power that it can never recover. The promotion has always emphasized the brand first, so what happens when McGregor goes outside the brand, outside the sport and draws a bigger audience than anything the UFC has ever produced? 
What happens when he proves that at least right now, he is bigger than the brand? Because that's what he's on the way to doing.
Will he be content to go back to the UFC and live within their current arrangement? Remember, this is a man who has openly and repeatedly spoken of co-promoting with the UFC, and pretty soon, he may be doing just that. Pretty soon, he may come to the realization that he doesn't need them at all, that he—like Mayweather—can do his own thing and collect the lion's share of the cash haul he creates.
I don't even think it matters whether he wins or loses. The vast majority of the combat sports world takes it as a given that he will lose, yet we want to see it anyway. Why? Because of the star power and spectacle. And that's not something that will dim now, not this early in his career.
Which makes me wonder: Is the UFC making a mistake by bucking its own system here? For years, it has resisted this very thing for a reason. Chad, do you think this will have reverberations past McGregor and through the roster, or is this just one hell of a headache it'll have on its hands for as long as McGregor remains signed with the UFC?
Chad Dundas: It's a marvel, Mike, to consider what McGregor has pulled off here. He's singlehandedly convinced the UFC to throw away more than 15 years of complete autonomy—once arguably its cardinal value—to secure this fight. Even if Mayweather and his Money Team never agree to terms, McGregor has already triumphed in yet another big battle against his own fight company bosses.
And this one is a doozy.
If he can get the UFC to agree to let him compete outside the Octagon, in a boxing ring, in a fight he will surely lose, he can get it to agree to anything.
It's remarkable when you consider that for the last decade and a half, White and former UFC owners Frank and Lorenzo Fertitta ruled the MMA world with such utter impunity. Their near-monopoly over the industry and iron-fisted management style succeeded in keeping nearly the entire roster of fighters in check for much of this sport's modern history.
Then McGregor came along and smashed that mold beyond all recognition.
That's a credit to him and him alone. I'm not sure any other MMA fighter will ever have the savvy, skills and hutzpah to take the UFC to the negotiating woodshed so regularly. So, in that way, I think McGegor is an entirely isolated example.
I do think, however, that UFC fighters will try to emulate him, to varying degrees of success. In the last few years, we've already started to see more and more fighterstake their grievances with the company public. We're also nearly continuously hearing rumblings about unionization, though so far those efforts have been miserable failures.
McGregor merely adds fuel to that fire. While I'm not sure his continued victories over the UFC mean a full-scale rebellion is coming, I do think the days of the fight company being able to move unchecked over an entirely servile population of athletes are coming to and end.
And I think McGregor deserves some credit for playing a role in that shift.  
Drifting so close to actually getting the Mayweather fight signed is another reminder that since he arrived in the UFC in 2013, McGregor has been making good on impossible promises. Each time the so-called experts laugh at his plans or shrug him off, he goes out and makes us all look like fools.
So, Mike, at the risk of looking foolish once more, if McGregor lands this fight, how on earth could he top it? Could he return to the UFC as a mere fighter again? Or might we see the rise of McGregor Promotions, another of McGregor's wild ideas that at first drew laughs but might ultimately turn out to be more legitimate than anyone would've thought?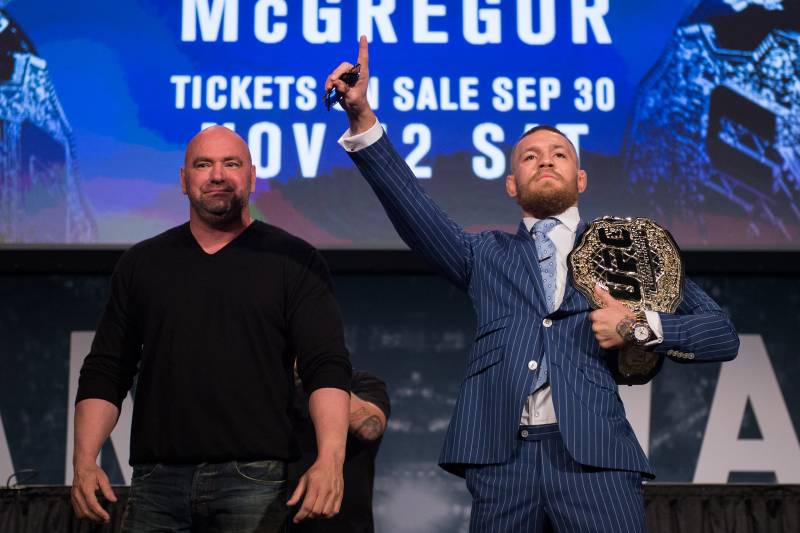 Brandon Magnus/Zuffa LLC/Getty Images
Chiappetta: How can he top it? This is the multi-million dollar question, isn't it? Because all of what we've seen over the four years since McGregor showed up in the Octagon hasn't been some accident or fate. He's legitimately called every shot he's taken, then gone out and accomplished it.
He said he'd win the lightweight belt, that he'd become a two-weight world champion, that he'd become MMA's highest-paid draw. All of those things have come true, but only by way of his hard work, self-promotion skills and political maneuverings.
And as you mentioned, he's also talked about launching McGregor Promotions. At this point, why would we doubt him? Anyone who doesn't believe he's going to work his damnedest to follow through on his declaration hasn't been paying attention. 
McGregor Promotions is coming. He's already told us his end game, and that's why I think UFC is playing with fire by agreeing to his demands. Don't get be wrong, I'm glad they did. This is prizefighting, and I think athletes should be able to chase the fights that pay them the most money, even if those fights aren't the most meaningful in a sporting sense. 
We should all tip our caps to UFC for giving ground. I wouldn't say this makes them any more fighter-friendly, but it's a single big step in that direction, albeit in an exceptional circumstance.
Yet, you have to wonder if this is McGregor continuing the, "You give an inch, I'll take a mile" approach to control his career and future. And if it is, good for him. 
For the longest time, fighters who gave pieces of their lives in the Octagon only to ask for a favor in return, have been shot down. Randy Couture desperately wanted to fight Fedor Emelianenko. Anderson Silva wanted to box Roy Jones. For crying out loud, Georges St-Pierre was lambasted by White just because he decided he needed time away from the sport. And these are guys who have actually made the UFC real money.
McGregor? He ain't going out like that. He's going to call his shots and follow through, and White is going to have to deal with him, not the other way around. I love it. Sure, this whole thing will probably end up in some lawsuit-filled debacle, but this is MMA, and chaos is part of the product.
So let's take this all the way to the conclusion, Chad. Let's say McGregor and Mayweather reach a deal. They fight. McGregor makes an eight-figure payday. He leaves the ring with a whole new perspective on life. What happens next? Where is his first post-Mayweather fight? The UFC? His own cage? The courtroom?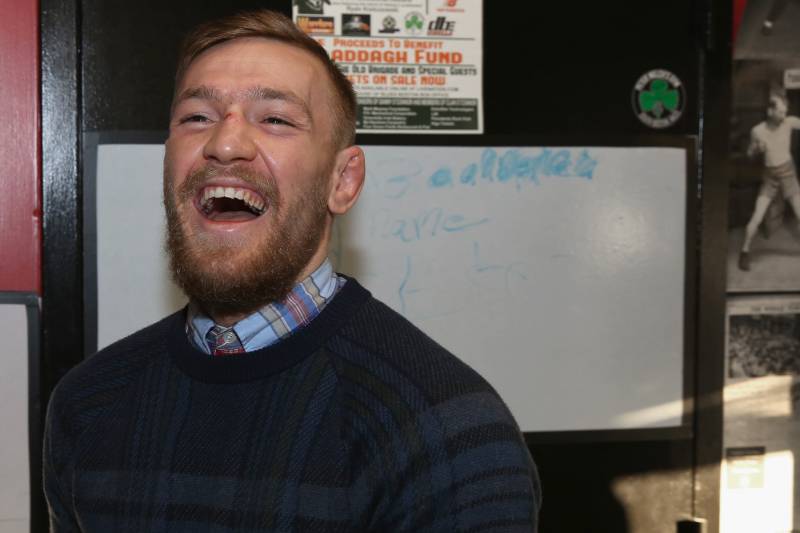 Billie Weiss/Zuffa LLC/Getty Images
Chad: It depends on a litany of factors, Mike.
Firstly, McGregor's goal in any fight against Mayweather should be to just not get embarrassed so badly that it ends up dampening his star power. The last thing he wants is to wind up like Ronda Rousey, the sudden butt of a million internet memes.
But if McGregor plays this correctly—and so far he's played almost everything correctly—I think he'll be treated as a conquering hero for taking the Mayweather bout. He'll ace the promotional lead-up to the fight and, let's be honest, the boxing and mainstream media will line up to guzzle down the Conor McGregor Show like sweet, sweet nectar.  
The media will laud him for having the guts to cross the aisle and take on one of the greatest boxers of the modern era and fight fans will understand that he's not competing at his natural sport. So long as he avoids getting completely smashed and then handles the loss with the same dignity he showed after Nate Diaz beat him at UFC 196, he'll waltz in and out of this matchup with no damage to his legacy.
And then things will get interesting.
You and I have gone back and forth on this before, Mike.
One thing we've never seen McGregor do is take a step backward. To him, it's always on to bigger and better things once a goal is realized. In that way, it's tough to imagine him fighting Mayweather and then going back to the UFC to accept a low-profile matchup against someone like Khabib Nurmagomedov, Tony Ferguson or even Diaz again, for less exposure and a lot less money.
On the other hand, McGregor is only 28 years old—still just a pup, even by the harsh standards of combat sports. As you once put it to me, Mike, a guy who likes his lavish lifestyle as much as McGregor obviously does ain't gonna quit the money-making business before he even turns 30.
He set a blistering pace during his most recent UFC run, fought four fights in 11 months, won two titles and smashed MMA pay-per-view records at every turn. On May 6, he and longtime partner Dee Devlin welcomed their first child—a boy named Conor Jr.
So, I suppose I'm going to end this by saying I've given up trying to anticipate what Conor McGregor will do. I've learned the hard way not to take him at his word, but the only thing I can say with reasonable certainty will be that his next project stands to be bigger, bolder and even more audacious than this one.
Can you even imagine?
I, myself, cannot.