It's hard to ignore an overwhelming athlete and competitor like Luke Rockhold.
But somehow, despite its well-known efforts to push divisional favorites to the front of the line, the UFC has ignored him.
As if the promotion was teasing Rockhold in a sick game of professional "duck, duck, goose," the former Strikeforce middleweight kingpin has not been paid his due.
Sure, he collapsed at the hands of Vitor Belfort in his Octagon debut, but that specific performance should be cast aside considering Belfort was under the influence of testosterone replacement therapy.
In any case, Rockhold has regained his divisional footing in an effort to showcase his elite-level potential.
From his destruction of Costas Philippou via nasty body kick to his technical submission victory over a tough Tim Boetsch, the 29-year-old has done everything to deserve another premier main event.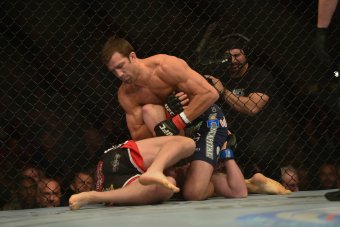 While Rockhold was recently linked to a bout with Lyoto Machida at UFC 179, news originally reported by Guilherme Cruz of MMA Fighting, nothing has been set in stone.
So that still raises the question as to why the UFC is sleeping on a towering striker with great finishing ability and a world-class submission game.
Is it because the division is packed tight with exceptional title contenders like Ronaldo Souza, Gegard Mousasi and Tim Kennedy?
Or is it the UFC's attempt to keep the storm calm before Anderson Silva makes his return?
Quite honestly, it could be either one.
But with career victories over Souza and Kennedy from his Strikeforce days, it would make sense for the UFC to launch Rockhold past his peers and force him to produce under the brightest of lights.
How many fights does Rockhold need to win before a title shot?
That doesn't necessarily mean he should get a shot at Chris Weidman's championship tomorrow, but a No. 1 contender's bout would suffice.
He's obviously too good for the division's bordering contenders, so why not throw caution to the wind, dismiss Belfort's improbably and testosterone-charged finish and allow Rockhold to break through the ceiling the promotion has accidentally (or purposely) created?
At the end of the day, a young jiu-jitsu black belt who trains at the American Kickboxing Academy and has finished 10 out of his 12 professional wins should be ushered into the division's VIP room before anyone else.
For more UFC news and coverage, Follow @DHiergesell