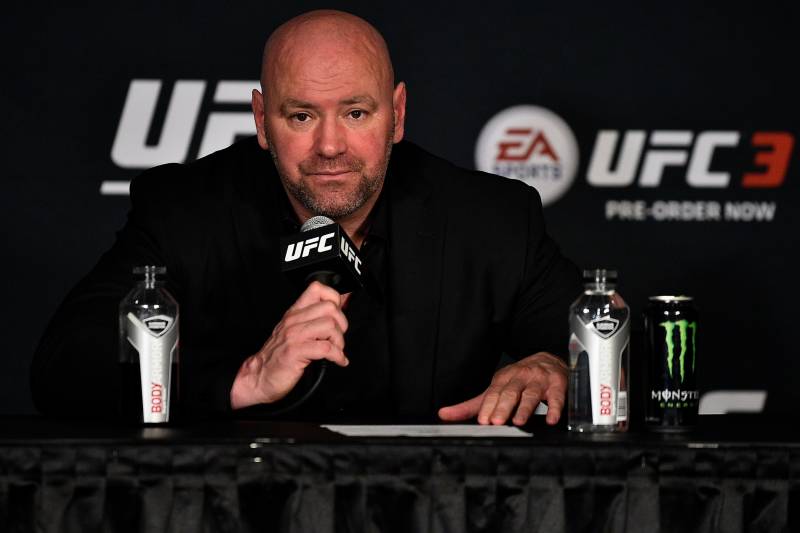 Jeff Bottari/Zuffa LLC/Getty Images
"Build yourself into a star, and you won't be talking about money fights. ... Become a star. Don't worry about Conor McGregor or fighting on Conor McGregor's card. Become a star yourself."
Those were UFC president Dana White's words in January, per Ben Fowlkes of MMAjunkie.
It would probably be inaccurate to suggest that a critical mass of UFC fighters read this and took it as a sign that a reckoning was at hand. 
But it is probably accurate to point to this as another example of the widening rift between UFC fighters and the bosses who control them, particularly White. Some recent high-profile dissent has served as a counterweight to White's bluster and the UFC decisions that fighters find to be against their interests.
This is not a new tension—anyone remember "Dana is my b---h"?—but it may now be getting hotter than ever. 
On Jan. 20, in the cage following his win over Francis Ngannou, UFC heavyweight champion Stipe Miocic snatched his belt out of White's hands and handed it to his coach for the honor of strapping it around Miocic's waist. 
Miocic later brushed off the incident by saying his coach "respects me and I respect him. End of story," per Peter Carroll of MMA Fighting. Still, the optics were striking, particularly given Miocic's history of public disputes over his contract.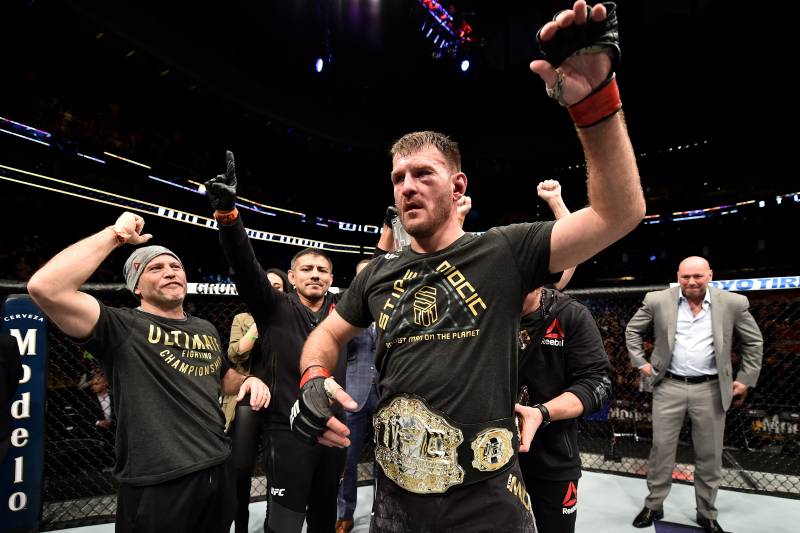 Jeff Bottari/Zuffa LLC/Getty Images
Other recent examples go deeper. Earlier this month, featherweight champ Max Holloway, citing a serious injury, withdrew from his March 3 title defense with Frankie Edgar at UFC 222. Needing a new main event, the UFC went to T.J. Dillashaw, the bantamweight champion, to request a rematch with Cody Garbrandt, Dillashaw's heated rival and the man he defeated to retake the strap in November. 
Dillashaw declined. He made clear in no uncertain terms that he felt the UFC's terms were unreasonable—especially at the price point they offered.
"It took me two years to get a title shot back, and now they want me to defend it on four weeks' notice?" he told ESPN's Brett Okamoto on Saturday. "I have a five-week-old son. I'm not training. ... I lost a split decision to Dominick Cruz when I lost my belt, the UFC told me they thought I won that fight and it still took me two years to get back to [a title shot]."
Dillshaw isn't the first fighter to turn down an opportunity. What usually happens, though, is that a fighter tactfully declines by citing injury or an apolitical situation. Dillashaw did subsequently go back and mention injuries, but at the same time, he noted that the UFC wasn't able to "do anything" (read: financially) to make a short-notice rematch worth his while. 
On the very same day (Feb. 3), bantamweights John Dodson and Pedro Munhoz were scheduled to face off in the co-main event of UFC Fight Night 125 in Brazil. The day before, however, Munhoz weighed in at 140 pounds—four pounds over the bantamweight upper limit. 
Usually, the fighter who made weight accepts the fight anyway and agrees to take a portion of the overweight person's purse in exchange for the increased risk that comes with facing a larger opponent. 
Dodson declined.
Reports quickly surfaced that the UFC would not pay Dodson his show money for the fight, even though his only action was to decline the catchweight fight, which he has every right to do. The report did not attribute the decision to any specific official, but it had White's fingerprints all over it. A knee-jerk decision applied from a place of emotion instead of logic and with no regard for precedent: That's the White style. 
Dodson didn't take the news lying down. Speaking to Damon Martin of MMAWeekly, Dodson pointed to an earlier fight, when opponent John Lineker missed weight and he took the fight anyway, to his own detriment.
"Lineker came in overweight and I was being a good company man, I'm just going to go ahead and fight him, do what I have to do and just be excited about being the main event," Dodson said. "Lineker came over heavy. I clearly outstruck the man, but I came away with a loss, and I got screwed, so I wasn't rolling the dice on that for a second time."
The UFC later agreed to pay Dodson an unspecified portion of his show money—although Dodson said Monday he still hasn't received the payment and doesn't know the status of it. The Dodson-Munhoz fight also has been rebooked for UFC 222.
The fourth recent example is from middleweight Uriah Hall. In February, Hall fainted on his way to the weigh-in scales, a result of a steep weight cut for his bout with Vitor Belfort. Hall's coach, Eric Nicksick, later said Hall sustained a "slight heart attack" during the process. 
The bout was called off. Immediately after, White claimed the blame was on Hall.
"He doesn't take his training serious, he doesn't do what anybody tells him," White said, per Mike Bohn and John Morgan of MMA Junkie. "He does his own thing. A week before the fight, he went to L.A. and was hanging out in L.A. in clubs and stuff. So, not good."
A couple weeks later, Nicksick stood up to White.
"It's tough, especially when your employer is the first one to bag on you," Nicksick told MMAjunkie Radio. "I think what really hurt me was this guy almost died for your organization."
Hall also weighed in and forcefully denied White's version of events.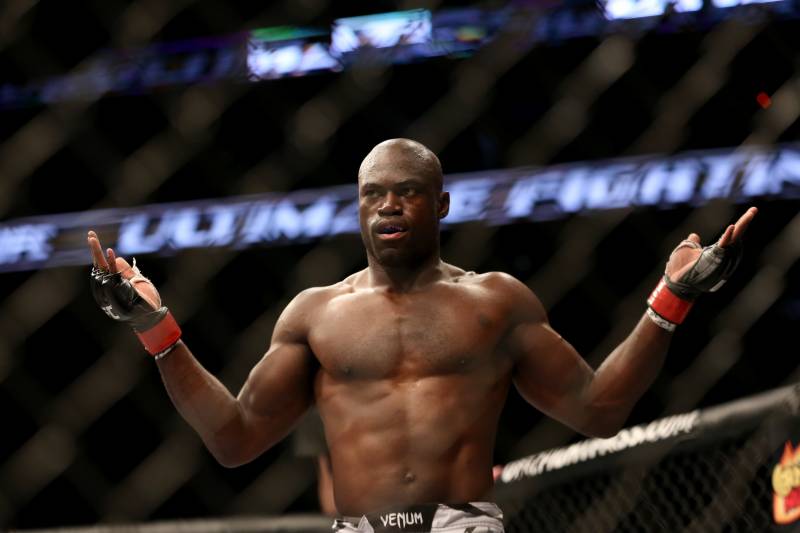 Gregory Payan/Associated Press
"You mean to tell me my entire career, all of a sudden I'm going to party in L.A.? It's too funny man," Hall said, per Bohn. "Oh, my God. But that's what happens when you don't come out [to fight]—a lot of speculation."
Hall has since been rebooked for a bout with Paulo Costa in April. 
It is no secret that the UFC, and White in particular, are vindictive against fighters who don't do as they're told. With restrictive contracts and the stranglehold they have on the fighter market, there are a million ways for the UFC to get away with that, under the table or over it. Even in cases where fighters do everything by the UFC book, good pay and other benefits are scarce.
Fighter grumbling about such treatment is also not novel. But loud dissent was typically the domain of outliers, men like Jon Fitch who seem predisposed to challenge systems they view as unjust. 
But it's remarkable to see this kind of flurry. In the span of three weeks, four prominent fighters—two champions and two co-main eventers—acted and spoke out in defiance of the UFC's will. White is the face of UFC leadership and will, it seems, continue to be so for an open-ended period of time. That could be a problem for the UFC, especially with White making public comments that distance him from the fighters who provide that company's content. 
If the UFC only wants to promote itself and not its fighters, fine. If White asks UFC fighters to pull themselves up by their own bootstraps with no help from the company, that's his prerogative. But it's a double-edged sword.
It seems his worry-about-yourself stance stands in contrast to his expectation that fighters make sacrifices in the name of the company. You can't have it both ways, and White may be learning that.