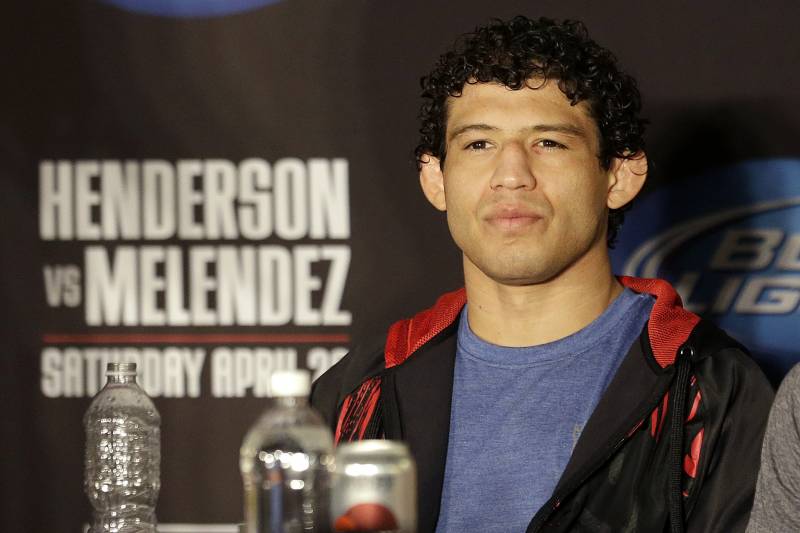 Thomas Mendoza/Associated Press
Steven Rondina
The original Reebok gaffe might be be past his prime, but so is Stephens. And Melendez's prime? Yeah, it was a lot better than Stephens'. Unless he loses a lot in the cut down to 145 pounds, I'm expecting the former Strikeforce champ to work his way to a handy decision win.
Melendez, unanimous decision
Nathan McCarter
I'm interested to see how Melendez looks at featherweight, but he's 35-years-old. Is his body going to be able to handle the cut down to 145, and how can he recoup the damage his body is going to go through?
These questions make me weary to take him against Stephens, who has acclimated to the weight class. Stephens' strength, defensive wrestling and power will win the day. Melendez wears down and can't take the fight on points.
Stephens, unanimous decision
Scott Harris
Could be a loser-leaves-town match, though the heat is definitely more on Melendez, who is older, less "exciting" and less active at this career stage. But here's predicting Melendez plants his feet firmly in the dirt.
He won't be ushered off just yet. He'll add takedowns to his mix of boxing and toughness. One more big win for the 35-year-old.
Melendez, unanimous decision
Craig Amos
Neither guy is exactly on the upswing here, so it may come down to whose game has diminished less. That's not characteristic of an exciting fight, but both guys like to light some fireworks inside the cage, so it could work as a nice kickoff for the main card. I'll say Melendez avoids the incoming powershots and takes it on the scorecards.
Melendez, unanimous decision