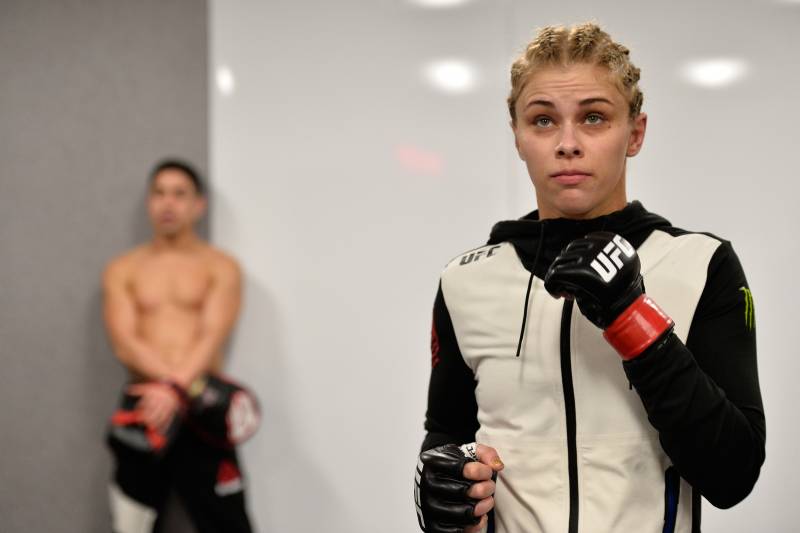 Brandon Magnus/Zuffa LLC/Getty Images
Weight-cutting is a serious problem in mixed martial arts, but at least for Paige VanZant, that appears to be a thing of the past with the creation of the new 125-pound weight class.
The UFC fighter posted a pair of pictures Wednesday showing her attempt to cut down to 115 pounds, including one of her on the bathroom floor:
She previously competed in the strawweight division but now intends to fight in the flyweight division at 125. The next highest class used to be bantamweight at 135 pounds.
UFC President Dana White announced the decision to add the fourth women's weight class in May because of the sport's growth.
VanZant had posted a 7-3 record in her MMA career, with her last event being a December loss to Michelle Waterson at the 115-pound class.
The 23-year-old fighter discussed the challenges of cutting down from as heavy as 137 pounds to make weight for her bouts.
"It's a big cut for me," VanZant told Ariel Helwani on The MMA Hour in September (h/t Marc Raimondi of MMA Fighting). "I'm a lot heavier than people realize. I was honestly killing myself for this sport. In my last I want to say two fights or three fights, I've passed out in my bathroom. This last one, I passed out and had the doctors almost not cleared me for the fight."
Although VanZant was forced to pull out of UFC 216 because of what turned out to be a variety of ailments, she appears happy to make the transition to a bigger weight class.