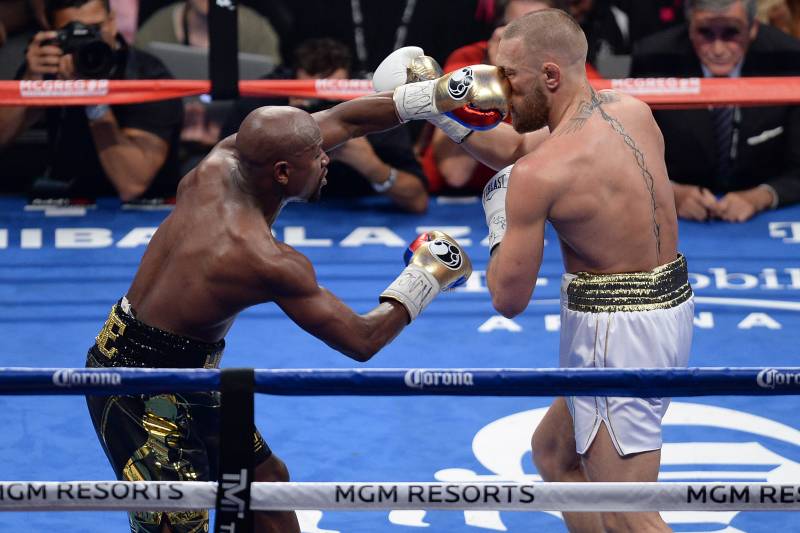 Joe Camporeale-USA TODAY Sports
Floyd Mayweather Jr. had his hands filled with a better-than-expected Conor McGregor in their megafight at T-Mobile Arena in Las Vegas Saturday night, but he left the ring with the stoppage of his opponent that he had promised throughout the buildup.
Mayweather started slowly and threw few punches in the first two rounds. McGregor's awkward left-handed boxing style seemed to bother Money, and it left fans wondering whether McGregor was in a position to pull off the upset he had bragged about being able to achieve.
The tide started to turn in the third round, and Mayweather got busier and by the fourth round. That allowed the undefeated fighter to show off the skill and experience advantage he had over his opponent.
As the rounds progressed, it was clear Mayweather had taken charge. Not only was he hitting McGregor with hard punches frequently, but the Irishman was clearly getting tired and uncomfortable in the ring. His punches were growing infrequent and being delivered in an awkward manner, and he was presenting himself as much too large a target.
Mayweather was able to find McGregor's chin and face with frequency, and he also delivered some body shots. By the latter portions of the eighth round, it was clearly Mayweather's fight, and it was just a matter of how and when it would.
The battering continued in the ninth round, and Mayweather dictated the pace with more hard shots in the 10th. McGregor took a series of shots to his bleeding face in the first minute of that round, and it appeared he was going to get knocked down or through the ropes at any point.
That's when the fight was stopped and Mayweather was declared the winner by TKO.
McGregor's early showing was impressive because he threw and landed more punches than Mayweather, and he seemed to cause his undefeated opponent more problems than more experienced boxers had in previous bouts. However, McGregor lacked the skill and stamina to keep up with Mayweather as the fight progressed.
Mayweather improved his record to 50-0 with the victory, bypassing legendary heavyweight champion Rocky Marciano (49-0). Mayweather retired after the fight and said there would be no other comebacks.
"This is my last fight, ladies and gentlemen," Mayweather said after the fight, per Rick Maese of the Washington Post. "Tonight I chose the right dance partner to dance with. Conor McGregor, you're a hell of a champion. He was a lot better than I thought he was. He used different angles. He was a tough competitor, but I was the better man tonight."
Mayweather's ability to get his punches through McGregor's defense and the MMA figher's fatigue were the big factors in the victory. Once Money turned the bout in his favor, the UFC lightweight champion had little response and could not do anything to regain the momentum.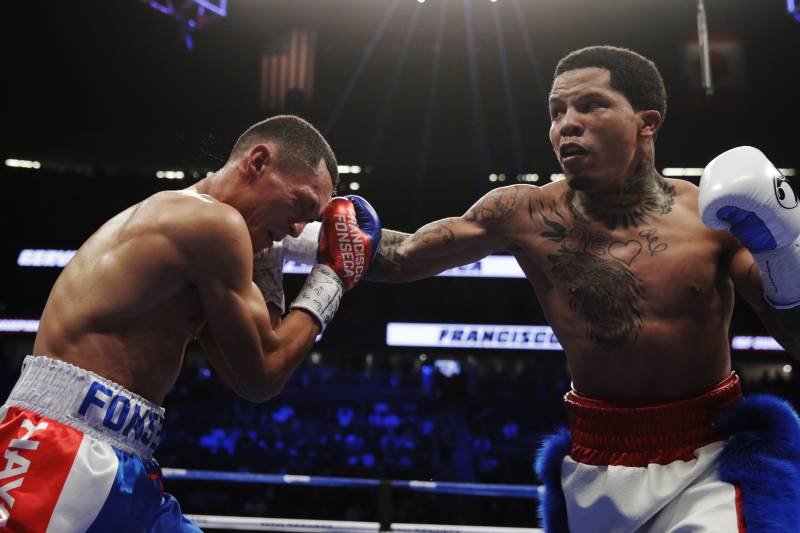 Isaac Brekken/Associated Press
Undercard Results
Mayweather protege Gervonta "Tank" Davis was victorious on the undercard, as he stopped Francisco Fonseca with an eighth-round knockout. Despite the win, Davis was stripped of his junior lightweight title because he failed to make the weight limit.
Badou Jack stopped Nathan Cleverly in the fifth round to earn a light heavyweight title. Jack took it to Cleverly throughout the fight, and the Welshman was not able to do much to defend himself after getting his nose broken in the third round.
Cruiserweight Andrew Tabiti pounded out a unanimous decision over veteran Steve Cunningham in a 10-round fight that lacked overall action. Tabiti was able to control the fight with his footwork and his left jab, and that enabled him to pile up points. Cunningham had no answers for Tabiti's execution.
Other Results
Yordenis Ugas defeated Thomas Dulorme by unanimous decision.
Juan Heraldez defeated Jose Miguel Borrego by unanimous decision.
Marcos Antonio Hernandez defeated Kevin Newman by unanimous decision.
Savannah Marshall defeated Sydney LeBlanc by unanimous decision.