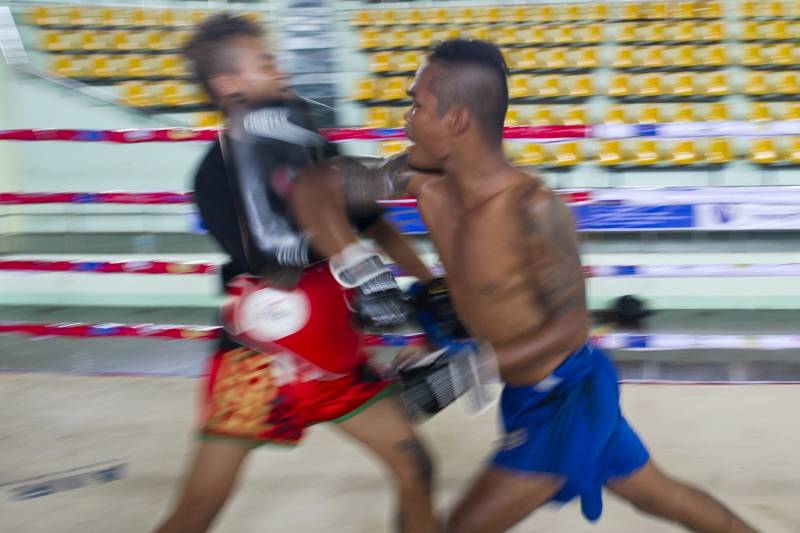 YE AUNG THU/Getty Images
Combat sports fans on social media have been given a great gift over the last 24 hours. A gift in the form of a steady stream of jaw-dropping finishes across both MMA and kickboxing. 
Foremost among them was the massive spinning-elbow knockout victory scored by Cris Mims at Lion Fight 38. Check it out here:
Believe it or not, that wasn't the only spinning-elbow knockout of the day. On the other side of the world at Eurasia Fight Nights 74, Zelim Imadaev did the same as he floored Yuri Izotov:
In the main event of that card, Russian journeyman Nikolay Aleksakhin posted a much-needed highlight-reel victory over Michael Graves, rocking him with a head kick before finishing with an uppercut:
Mims wasn't the only man to score a vicious knockout at Lion Fight 38, though. Jafar Toshev gave him a strong challenge in the "Knockout of the Night" department with this savage switch-kick KO:
On a day filled with big elbow knockouts, Thai kickboxer Buakaw Banchamek refused to be outdone and posted a dominant, but creative, performance at All Star Fight 2 in Thailand:
The most viral knockout of the day happened in Japan, however, with this beautiful-yet-scary foot sweep-into-knee combination that set timelines ablaze:
Things trickled into this morning, too, with UFC alum Takeya Mizugaki making an inauspicious debut with ACB Fighting League:
With no UFC or Bellator events scheduled for this weekend, this is most welcome.