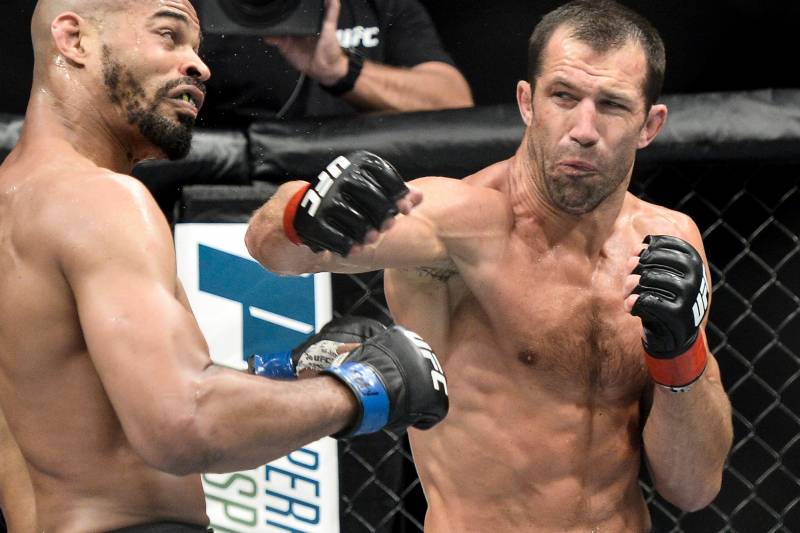 Brandon Magnus/Zuffa LLC/Getty Images
Luke Rockhold won a fight this past weekend. It was the first time he'd done that since late 2015, when he won the UFC middleweight title, and his first appearance since mid-2016, when he lost that same UFC middleweight title during his first defense against Michael Bisping.
In the interim, Rockhold became something of a curiosity in the MMA space. He'd show up from time to time to support a teammate, sometimes with a new celebrity lady friend, but he was largely absent from the UFC.
Well, absent physically.
He was very much a fixture in the sport verbally.
While on hiatus he was often in the media, complaining about the UFC, his pay, his lack of potential opponents and the potential opponents of others.
He took shots in an ESPN interview (h/t MMA Mania) at Michael Bisping, who bodied him on a few days' notice to take his belt. Yoel Romero was next in line during an appearance on the MMA Hour, because everyone takes shots at Yoel Romero, and then Georges St-Pierre, who is the type of legend Rockhold is desperate to become in his own right.
It was a process where he crafted a persona for himself, that of a somewhat smug jerk who would tell people what's on his mind and make no apologies for it. He'd become a perfect heel.
The thing is, he's a heel nobody asked for.
The issue with this persona is that Rockhold has almost done it unwittingly. The trash talk, while plentiful, has almost had an inverse impact as to what would be expected: It hasn't sold him or sold his fights, and it may well have made people care less about him.
Most immediately it got him a fight against a tough but relatively unknown opponent in David Branch on a card that was opposing the biggest boxing match in recent memory that didn't involve Conor McGregor. Winning it got him no closer to a title fight, and his continued griping about Bisping and St-Pierre was largely met with a collective eye roll from onlookers.
It's confounding in its way, because Rockhold should be a star in the UFC almost without trying.
He's among the most purely talented mixed martial artists alive and probably the most well-rounded mat technician in the game. There's an eerie calmness to his combat approach, the type of comfort in chaos that only the very best possess.
He's handsome to the point that he legitimately almost quit MMA to become a model. That's the type of tool that isn't in the toolbox of every fighter, the type that should get a person noticed beyond the dregs of a UFC: Pittsburgh card on FOX Sports 1.
He's willing to throw out unlikely fight suggestions and jump divisions to find big fights and big paydays, but no one has ever endeavored to take him up on it. As much as McGregor or Jon Jones (before his most recent USADA bust) were lauded for creative fight ideas, Rockhold was largely ignored.
Here he is, one of the best 185-pounders alive, a man more or less forgotten. It's entirely frustrating and uniquely bizarre.
In the modern UFC economy, speaking one's mind, being physically marketable, pursuing interests outside of MMA and generally getting a little wild is a recipe for cashing in. In the case of Rockhold, though, lame salesmanship and his subsequent commitment to it, plus his lengthy run on inactivity coming off a memorable knockout loss, have managed to undo his career and his drawing power.
It all comes back to the persona he's developed.
Perhaps it's real, perhaps it's manufactured. Perhaps it's somewhere in between. Whatever it is, though, it isn't resonating with fans. He's doing all the things one should theoretically do to become famous and has all the tools to see it through, but he's not getting the results.
At this point, the only thing he can rely on is his immense skill in the cage—keep winning fights and his persona will take a back seat to his performance. 
That may be the only path to true stardom that he has left.