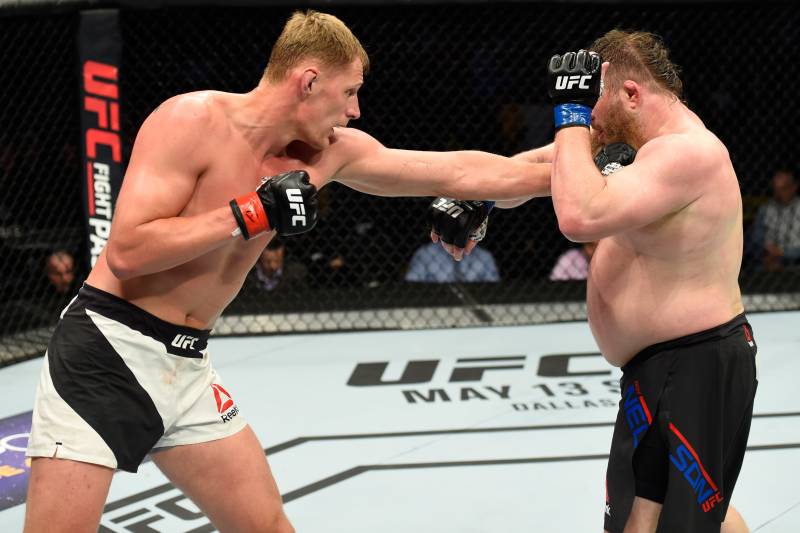 Josh Hedges/Zuffa LLC/Getty Images
McCarter
I like the strides Mr. Struve has made since his return to action, and Volkov isn't a killer inside the cage. The Dutchman will utilize his length well both on the feet and on the mat. This is a statement fight that moves Struve back into contention where he'll have one more chance to make his case as a top-tier heavyweight.
Struve, submission, Rd. 2
Harris
Struve is far more popular than former Bellator champ Volkov. That plus the fact he's fighting in front of a friendly crowd may give the appearance of a stronger psychological veneer than he actually has. Volkov has dished out 18 knockouts in his pro career, so if the Dutchman wants a banger, he'll get it. I'm thinking his chin ultimately lets Struve and the Dutch fans down.
Volkov, TKO, Rd. 3
Amos
Struve sometimes feels like a knockout waiting to happen, but Volkov doesn't inspire enough confidence to make this a foregone conclusion. The Dutch crowd will bring out the best in their guy, and we've already seen just how deep he can dig. It'll be a dicey first round, but Struve will survive and gut out the victory.
Struve, submission, Rd. 3
Rondina
I'm with Scott on this one. Struve is most certainly the better-known fighter among UFC fans, but Volkov didn't get to where he is by accident. I'm expecting the Russian to use his underrated striking to score points and show just enough in the wrestling department to seal a boring decision win.
Volkov, unanimous decision