When it comes to John Lineker and Jon Dodson, the chin was mightier than the fist at UFC Fight Night 96. 
Try as they might, both fighters who are known for immense power were unable to score the knockout, but Lineker did enough to earn the nod on two judges' scorecards. He won a split decision to close the night out and take a big step in the bantamweight title picture.
UFC on Fox tweeted out the official scores:
Official result: John Lineker def. John Dodson by split decision (48-47, 48-47, 47-48)#UFCPortland

— FOX Sports: UFC (@UFCONFOX) October 2, 2016
Lineker also took his time in the spotlight to call for the bantamweight champion Dominick Cruz, despite missing weight for the fifth time in his UFC career, per MMA Fighting:
Lineker: I think i deserve Dominick Cru. It's time for me. I've got four consecutive wins. It's my turn now.

— MMAFighting.com (@MMAFighting) October 2, 2016
Both knockout artists got off to a bit of a slow start. As both spent the majority of the first round feeling each other out and where the range between the two was, there were few highlights. 
Lineker was successful at cutting off the cage a few times, but more often than not Dodson was able to stick and move. The Jackson-Winkeljohn fighter even landed a head kick that the UFC highlighted via Twitter:
Head kick lands for @JohnDodsonMMA but @JohnLineker eats it like it never happened. What a chin! #UFCPortland https://t.co/Mo9TCsJLbm

— #UFCPortland (@ufc) October 2, 2016
The second round descended into oddness fairly quickly.
Frustrated by the cat-and-mouse game of tracking down Dodson, Lineker decided to stand in the middle of the cage and attempt to goad Dodson into a slugfest. Then a low blow from Dodson brought a delay in the action. 
Once the dust settled on the round, Lineker came out of the second frame the more comfortable fighter. 
Patrick Wyman of Bleacher Report noted the change in confidence while scoring the round for the Brazilian:
19-19 after two. Lineker's pressure is tightening and he's losing his hesitation to throw. #UFCPortland

— Patrick Wyman (@Patrick_Wyman) October 2, 2016
That level of aggression for Lineker would create the slugfest that fans thought this fight should be. The two spent less time establishing their footwork and engaged in more back-and-forths, which created a tough third round to judge. 
Josh Gross of The Guardian felt it was Lineker's best round:
Lineker is an animal. Dodson is in fine form too. 29-28 Lineker. The third was Lineker's best round so far. Fire for fire.

— Josh Gross (@yay_yee) October 2, 2016
As the fight wore on, Dodson's elusiveness became a problem for Lineker. "The Magician" continued to be a moving target for Dodson, and Lineker was not efficient until he started targeted the body with his hooks late into the round. 
Just to make sure that the close fourth round would play an important role in determining the outcome of the fight, Dodson got the better of the exchanges in the fifth and final round. After being the aggressor for five rounds, Dodson was able to take advantage of Lineker's aggression. 
UFC had the highlight:
THIS FIGHT!!!! #UFCPortland https://t.co/QrtJgsghiE

— #UFCPortland (@ufc) October 2, 2016
However, it was ultimately Lineker's aggression that proved to be the difference-maker as he took the split decision.
The UFC's 96th Fight Night offered more than the bantamweight scrap between Lineker and Dodson. It also provided the follow-up to Will Brooks' UFC debut as he took on Alex Oliveira and a few fights that could build future contenders.
Here's an overview of all the fights from Portland, Oregon, and a complete recap of all the main card action.
UFC Fight Night 96 Main Card Results
John Lineker defeats John Dodson by split decision (48-47, 47-48, 48-47)

Alex Oliveira defeats Will Brooks by TKO at 3:30 of the third round
Zak Ottow defeats Josh Burkman by split decision (29-28, 28-29, 29-28)
Brandon Moreno defeats Louis Smolka via submission (guillotine choke) at 2:23 of the first round
UFC Fight Night 96 Undercard Results
Luis Henrique da Silva defeats Joachim Christensen via submission (armbar) at 4:43 of the second round
Andre Fili defeats Hacran Dias by unanimous decision (29-28, 29-28, 29-28)
Shamil Abdurakhimov defeats Walt Harris by split decision (29-28, 28-29, 29-28)
Elizeu Zaleski dos Santos defeats Keita Nakamura by unanimous decision (29-28, 29-28, 29-28)
Nate Marquardt defeats Tamdan McRory by KO at 4:44 of the second round
Ion Cutelaba defeats Jonathan Wilson by unanimous decision (30-27, 30-27, 30-27)
Curtis Blaydes defeats Cody East by TKO at 2:02 of the second round
Ketlen Vieira defeats Kelly Faszholz by split decision (29-28, 28-29, 29-28)
Will Brooks vs. Alex Oliveira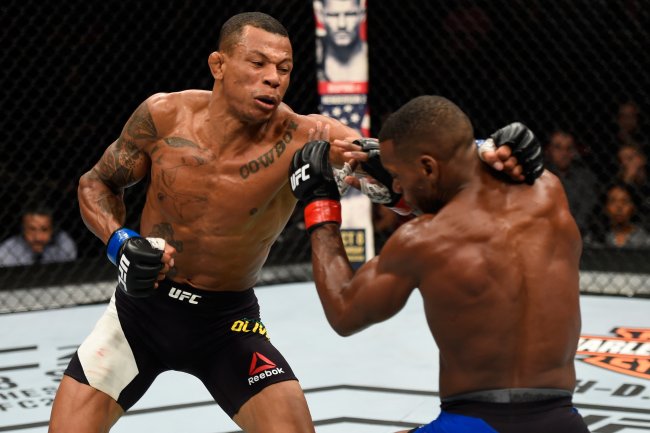 Will Brooks and Alex Oliveira aren't likely to show up at a barbecue together anytime soon. 
The former Bellator champion was clearly frustrated by Oliveira missing weight by 5.5 pounds on Friday, and that disdain spilled into Saturday's fight. 
Ultimately, Oliveira's size advantage played a role in Cowboy's third-round TKO victory over Brooks. He was able to control the fight against the cage and in the clinch. 
To make matters worse for the loser, Brooks likely injured his rib. According to UFC on Fox, he likely injured a rib early in the bout:
Daniel Cormier says in between rounds Will Brooks told his corner he popped a rib in that first round. #UFCPortland

— FOX Sports: UFC (@UFCONFOX) October 2, 2016
All that frustration boiled over as Cowboy taunted Brooks after scoring the win. Brooks responded in kind by throwing his mouthpiece at his opponent. Ariel Helwani of MMA Fighting described the scene:
Cowboy Oliveira wins via TKO. Then crotch chops Brooks and flips him off. Brooks gets up and throws his mouthpiece at Oliveira.

— Ariel Helwani (@arielhelwani) October 2, 2016
The circumstances overshadowed what could have been a great matchup in this one. Brooks had some moments in the bout despite the apparent injury, but Oliveira also looked like the much bigger fighter. 
All things considered, the loss will put a damper on Brooks' hunt for a title shot. It is his first loss in four years. But with Oliveira a prime candidate to go up to welterweight, long-term he could get right back into things with a win in his next fight. 
Josh Burkman vs. Zak Ottow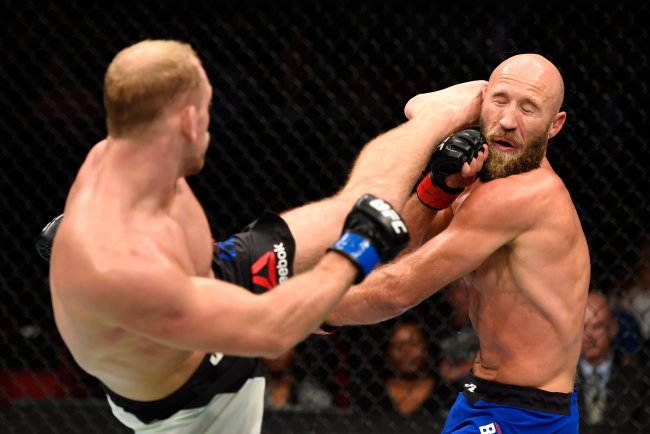 It turned out to be a pretty good night for late-notice replacement fighters. Zak Ottow became the second short-notice fighter to come out with a win by stepping up to save the event. 
The 29-year-old Ottow scored the first victory of his UFC career over Josh Burkman via split decision. 
The fight itself was one that you'd want to fast-forward through if you happened to DVR the fights. Outside of Ottow's confidence fighting a veteran like Burkman, there wasn't much to get excited about.
According to Fightmetric, Ottow outstruck Burkman 65-47 in a bout that moved along at a crawling speed for most of the three rounds. 
Connor Ruebusch of Bloody Elbow lamented Burkman's approach to the bout:
Zak Ottow looked unexpectedly good, and Josh Burkman looked sadly but somewhat predictably lackluster. Frustrating fighter.

— Connor Ruebusch (@BoxingBusch) October 2, 2016
The fight was the second time that a veteran just looked less than ideal against an unknown. Burkman moved to 1-3 in his last four fights and has to be sweating just how long he'll be kept around. 
Louis Smolka vs. Brandon Moreno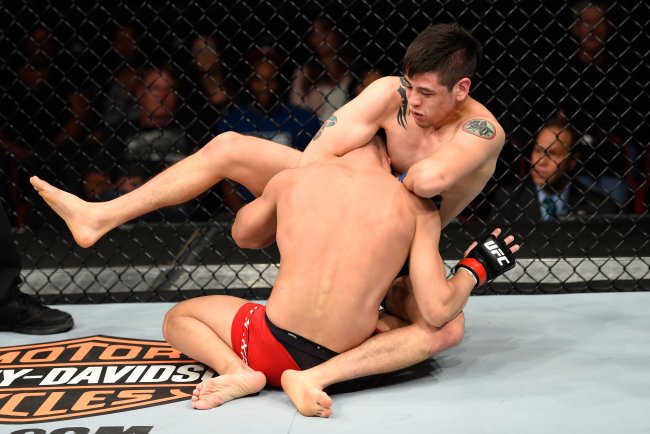 The Portland crowd was treated to a massive upset to kick off the main card when Brandon Moreno caught Louis Smolka in a guillotine choke in the first round. 
Moreno was making his UFC debut after eight straight wins primarily in the World Fighting Federation, with five of those eight wins coming by submission. As it turns out, the 22-year-old proved that he can get those submissions against top competition as well. 
Ben Fowlkes of MMAjunkie captured Moreno's reaction in the aftermath of the upset:
Brandon Moreno guillotines Louis Smolka then makes the ol' Matt Serra 'even I can't believe it' face before hugging the ref. Now that's fun.

— Ben Fowlkes (@benfowlkesMMA) October 2, 2016
Smolka entered the bout ranked as the No. 9 flyweight expecting to take on Sergio Pettis. Instead, he'll likely take a huge step back in the rankings thanks to a loss to the relatively unknown Moreno. 
It's never a good thing to lose a fight, but Smolka learned the hard way that the margin of error in the UFC is fairly small. The price was snapping a four-fight win streak and momentum in a division with few fighters on a roll.