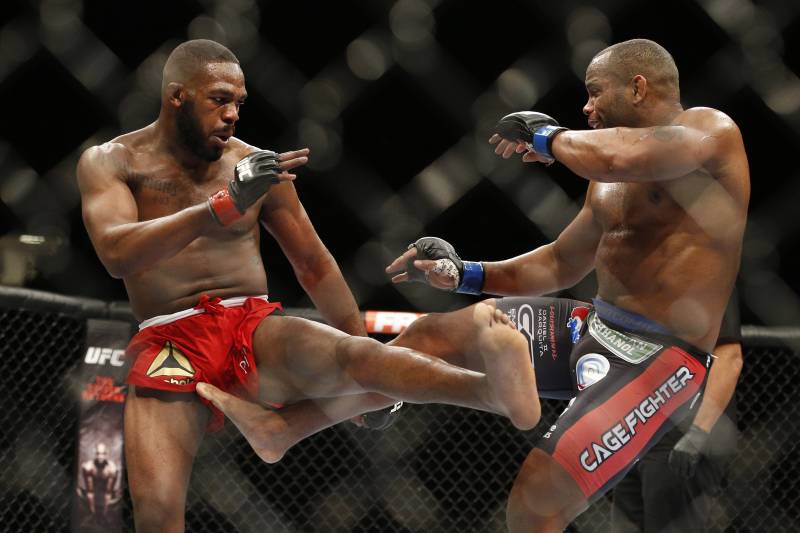 John Locher/Associated Press
These days there are few fight cards that are truly considered can't miss. UFC 214 is one of those cards. 
That is if you're into witnessing greatness inside the Octagon. There will be plenty on display at the Honda Center in Anaheim, California. 
First, there's the main event in which one of the best fighters of all-time in Jon Jones will try to reclaim what was once his. He'll take on current champion Daniel Cormier in a rematch of their championship bout at UFC 182. 
Then there's welterweight champion Tyron Woodley taking on a truly great jiu-jitsu player in Demian Maia for the 170-pound strap. 
The greatest female fighter in MMA will be on display as well. Joanna Jedrzejczyk puts up a challenge, but Cristiane "Cyborg" Justino is the most dominant woman in the sport. 
If that's not enough for you, then there's the welterweight matchup between Robbie Lawler and Donald Cerrone. While that may not have greatness in the traditional sense, there will be a great deal of violence—and likely blood. 
It's a card any MMA fan won't want to miss, so here's a look at the complete lineup of fights, the latest odds and a look at the keys to the biggest fights of the night. 
Odds via OddsShark in parenthesis. 
Main Card: Pay-Per-View, 10 p.m. ET
Daniel

Cormier

(c) (21-10) vs. Jon Jones (10-27)—Light Heavyweight Title Fight

Tyron

Woodley

(c) (20-41) vs.

Demian

Maia (33-20)—Welterweight Title Fight

Cristiane

"Cyborg" Justino (1-11) vs. Tonya

Evinger

(13-2)—Women's Featherweight Title Fight
Robbie

Lawler

(5-8) vs. Donald

Cerrone

(13-10) Welterweight

Jimi

Manuwa

(20-37) vs.

Volkan

Oezdemir

(3-2)—Light Heavyweight
Prelims: FXX, 8 p.m. ET
Ricardo Lamas (20-21) vs. Jason Knight (4-5)—Featherweight

Renan

Barao

(1-1) vs.

Aljamain

Sterling (10-13)—140-pound

catchweight

Renato

Moicano

(20-33) vs. Brian Ortega (27-20)—Featherweight
Andre

Fili

(1-4) vs. Calvin

Kattar

(3-1)—Featherweight
Prelims: UFC Fight Pass, 6:30 p.m. ET
Alexandra

Albu

(5-8) vs.

Kailin

Curran (13-10)—Women's

Strawweight

Jarred Brooks (2-3) vs. Eric Shelton (6-5)—Flyweight
Josh

Burkman

(49-20) vs. Drew

Dober

(20-63)—Lightweight
Daniel Cormier vs. Jon Jones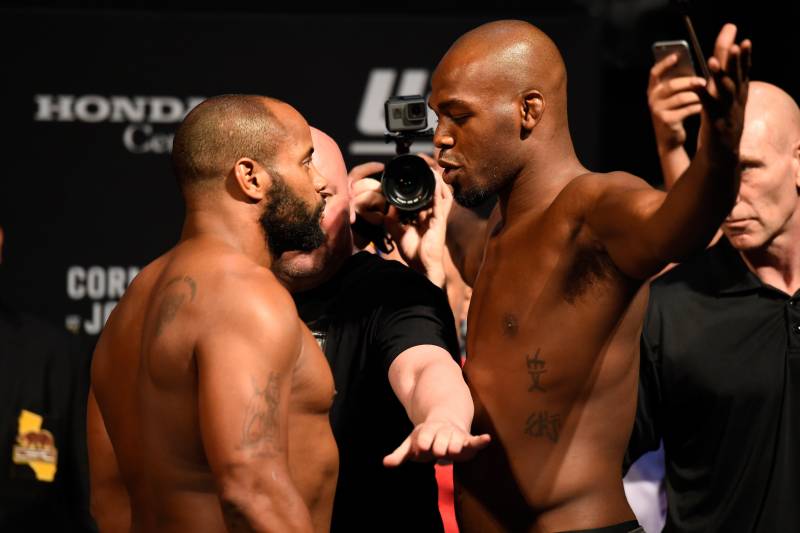 Josh Hedges/Zuffa LLC/Getty Images
Put away all the hype surrounding this fight. The trash talk. The petty rivalry. The narratives. This fight comes down to one thing: Distance. 
Every Jon Jones fight does. Jones should be credited for how he uses it, but when he walks into a cage, he has an indelible advantage over everyone just based on his unique build. At 6'4" with an 84" reach, it's the most noticeable thing to the most casual fans when the two are in the cage together.  
It's Jones' ability to utilize that impossibly large range that has made him the most prolific light heavyweight in history. 
Lonzo Ball Proves He's a Big Baller by Winning Summer League MVP

Will Anyone Catch the Astros or Dodgers in the Second Half?

Watch Gold Medalist Allyson Felix Surprise Gatorade Player of the Year

Beer Baths to Selfies: How Cavs and Dubs Celebrated Their Way Back to NBA Finals

Howard Beck's NBA Spotlight: No One Has More at Stake Than Kevin Durant

The Future of Baseball Is Bright in New York with Young Stars Conforto and Judge

Kyrie Irving Makes Trick Play in Game 4

Warriors Make History by Sweeping Their Way to Finals

Kevin Durant Gets the Double Block

Will Warriors Bust Out the Brooms for Historic Sweep of Spurs in Game 4?

Can Celtics Bounce Back to Avoid Short Eastern Conference Finals vs. Cavaliers?

Howard Beck NBA Spotlight: Can We Just Fast-Forward to the Finals Already?

Celtics and Game 7s Have a Lot of History...Which Isn't Good for Wizards

Night in the NBA: Rockets & Wizards Even It Up

Night in the NBA: Tempers Flare in D.C.

Howard Beck's NBA Spotlight: MVP Doesn't Matter, LeBron Still Best Player Alive

Welcome to the Diaper Derby: the High-Stakes Races Taking Over NBA Games

Have LeBron James, Cavaliers Sealed Raptors Playoff Fate After Just One Game?

The Night in the NBA: Rockets Light Up Spurs with 22 3-pointers; Cavs Coast Past Raptors

The Night in the NBA: Rockets Bounce Thunder, Jazz Down Clips and Spurs Stop Gri
Conquering that advantage is the biggest mountain Cormier will need to climb to get the revenge he seeks. With a foot-long reach disadvantage and five inches shorter in the height department, it's a massive amount of ground to cover to get inside Jones' long arms. 
But he found out there's a catch to that proposition in the first fight. Not only does Jones have an advantage at range, but he's also got the advantage in the clinch. 
Although that was believed to be an advantage for Cormier going into the first fight given his wrestling background, Jones' leverage and clinch striking once again turned out to be his biggest weapon. 
What Cormier has to do is walk a very thin line between standing at range and getting into the clinch when he doesn't have to. Essentially, his best shot at winning is boxing on the inside, which isn't traditionally his strength. 
That's what Jones does, though. He forces fighters out of their game because of how well-rounded his game is and what he can do in the cage. 
While Cormier has to execute the perfect game plan, Jones simply has to do what he does best.
Prediction: Jones via Unanimous Decision
Demian Maia vs. Tyron Woodley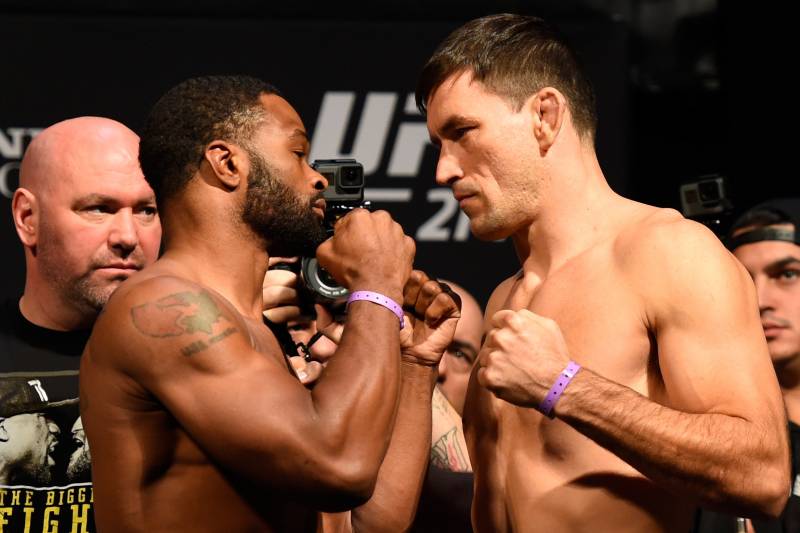 Josh Hedges/Zuffa LLC/Getty Images
If length defines the Jones-Cormier matchup, it's time that dictates Demian Maia and Tyron Woodley's title. 
How this fight turns out lies in just how long Maia can survive on the feet with Woodley and how long the champion can keep the challenger from dragging him to the mat. 
Maia is great at jiu-jitsu. Arguably as great as anyone in MMA is at any one discipline. His focus is singular when it comes to attacking his opponents. He wants to gain control and never let go, then go full boa constrictor in choking his prey out. 
"The best fighters make their opponents fight their fight," Brandon Gibson—coach of former Maia opponent Carlos Condit said, per Jonathan Snowden of Bleacher Report. "You know Maia wants to go to the ground. You know he wants to advance position. You know he wants to be in mount or take the back. And he just gets there."
Even still, Maia has to deal with the same problem all grappling specialists do: Each round starts on the feet. 
That's where Maia could be in trouble. Because with a twitchy athlete like Woodley, every second spent on the feet is a dangerous one. 
Josh Koscheck, Dong Hyun Kim and Robbie Lawler have all found that out about the champion. He's knocked each of them out in the first round. 
Woodley has a strong wrestling background. He was a Division I All-American twice at the University of Missouri before making his transition to MMA. But that won't likely come in the form of actually grappling with Maia, but in defending his takedowns. 
Woodley has been extremely difficult for opponents to take down thanks to his wrestling days. Only three opponents have been able to get him to to the ground. The last one was Rory MacDonald in 2014, and that took him three rounds before accomplishing the feat. 
As long as Woodley can stay away from the ground game, this is his fight to lose. 
Prediction: Woodley via second-round TKO
Cris Cyborg vs. Tonya Evinger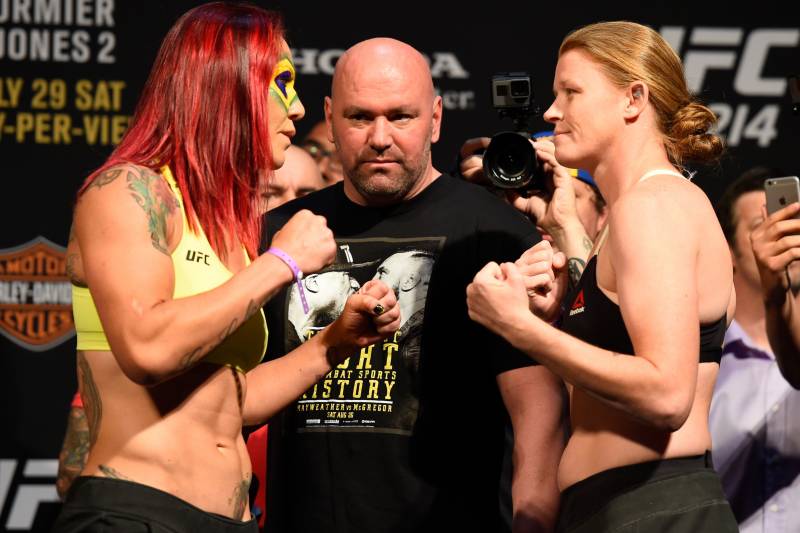 Josh Hedges/Zuffa LLC/Getty Images
Unlike the two matchups that will come after this one, there isn't a whole lot of intrigue here. 
This fight is all about getting a title to Cris Cyborg. The most dominant fighter in Women's MMA, she's another star that the UFC could use to promote the sport on the women's side and set up some big money matchups down the line. 
As far as Evinger's chances, she's just the courageous soul willing to take on the challenge. Germaine de Randamie had the title stripped from her for not fighting Cyborg, original opponent Megan Anderson was forced to withdraw from the bout and Evinger stepped in on about a month's notice. 
Cyborg was grateful for Evinger's decision. 
"Tonya accepted it a month before the fight, saving the event and my chance to fight," she said, per Mike Bohn of Rolling Stone. "She's from a lower division, but she's a top-10 at 135 pounds. She just never had a chance to fight in the UFC. And she's brave. I respect her for accepting the fight on short-notice."
There's the chance that Evinger pulls off an upset. There always is in MMA. She's tough and has a solid submission game with seven submission wins to her name. 
But technique only goes so far, the physical attributes do matter. Cyborg is bigger, stronger and faster. That's a hard combination to deal with. 
Prediction: Cyborg via first-round TKO