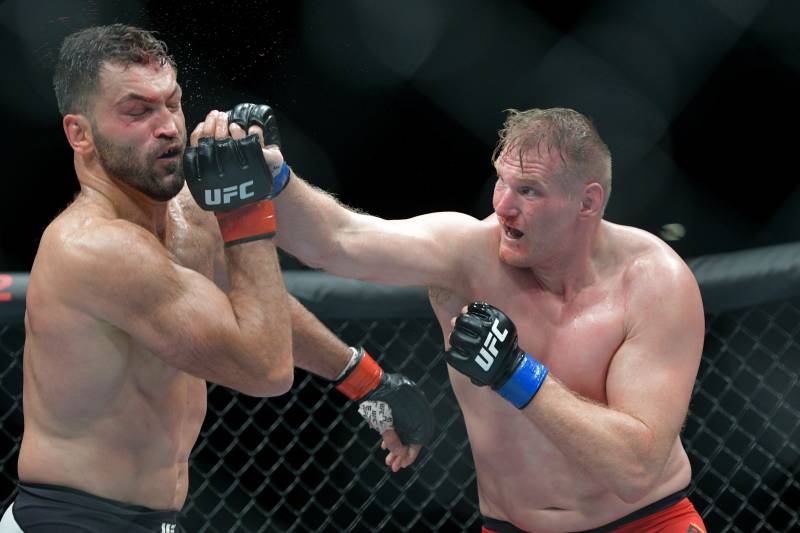 Axel Heimken/Associated Press
10. Stipe Miocic
Record: 16-2
Record Against Quality Opponents: 6-2
Finishes: 13 (81%)
Analysis: We'll learn a lot about where Miocic stands historically at UFC 211. The two best heavyweight fighters of his era are Junior dos Santos and Cain Velasquez. Beating one of them would do a lot to launch him up this list, arguably even into the top five. 
9. Tim Sylvia
Record: 31-10-1
Record Against Quality Opponents: 8-6
Finishes: 24 (77%)
Analysis: Forgotten to history, Sylvia was an effective, if not lovable, heavyweight fighter. Unfortunately for Sylvia, he's best remembered for his shocking knockout loss to boxer Ray Mercer and a nauseating Frank Mir submission that left him with a broken arm. Pure size was one of his main attributes and he eventually ate his way right out of the division. 
8. Randy Couture
Record: 19-11
Record Against Quality Opponents: 13-9
Finishes: 11 (57.8%)
Analysis: Couture is the only three-time heavyweight champion in UFC history. Even more remarkable? He might have been even better as a light heavyweight, where he also won gold. 
7. Josh Barnett
Record: 35-8
Record Against Quality Opponents: 13-8
Finishes: 29 (82.8%)
Analysis:  Barnett holds victories over six fighter on this list. The first came in 2000 against Dan Severn. The last was in September of 2016 against Andrei Arlovski. That should tell you everything you need to know, both about Barnett's longevity and his time-tested talent.
6. Mirko "Cro Cop" Filipovic
Record: 35-11-2
Record Against Quality Opponents: 15-10
Finishes: 32 (91%)
Analysis: In 2006, Cro Cop won the Pride Openweight Grand Prix. Ten years later, he won a similar tournament for Rizin. It's the time in between, including a disappointing run in the UFC, that prevents him from joining the heavyweight Mount Rushmore.