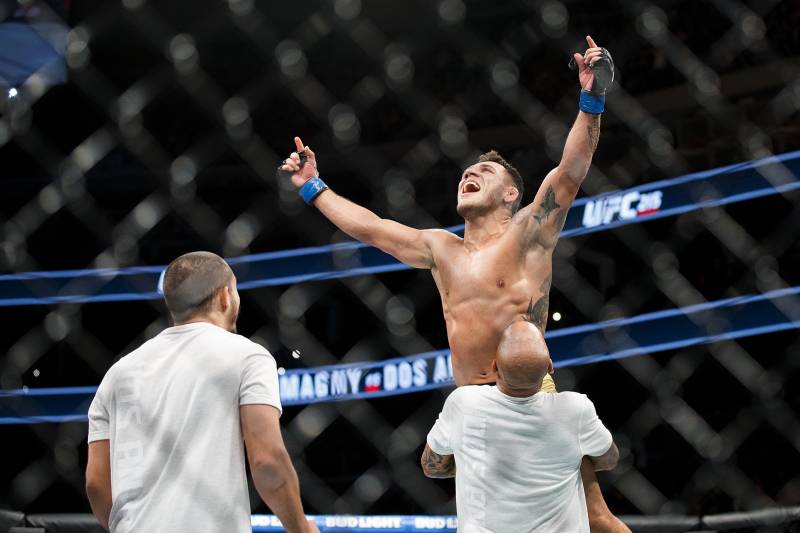 Codie McLachlan/Getty Images
Rafael dos Anjos is here to stay at 170 pounds. Facing Neil Magny in the show's co-main event, the former lightweight champion put on an absolutely dominant performance, scoring a first-round submission victory.
Dos Anjos tends to be a strong starter, and Magny attempted to meet that head-on, applying early pressure for a brief time. That backfired in a big way, however, as Dos Anjos made the adjustments and wrestled Magny to the mat in the first 30 seconds of the fight, landing in half-guard and keeping the pressure high on top.
Magny had no real answer for this and Dos Anjos eventually stepped into mount and sunk in a deep arm-triangle choke, forcing the tapout at 3:43 of the first round.
This is a much-needed big win for Dos Anjos.
While the Brazilian was riding high in 2015, looking the part of a potentially long-reigning champion at 155 pounds, things went into a tailspin in 2016, starting with his withdrawal from a UFC 196 bout with Conor McGregor. That fateful turn, alongside Nate Diaz's upset win, saw him robbed of a massive payday and placed on the backburner of his own division. The situation went from bad to worse to irreparable when he dropped the title to Eddie Alvarez and then lost to Tony Ferguson.
He entered UFC 215 amid a hard reboot to his career at 170 pounds, started in June with a win over Tarec Saffiedine. This decisive win over Magny, however, cements his place in the welterweight top 10 and propels him right into the title picture.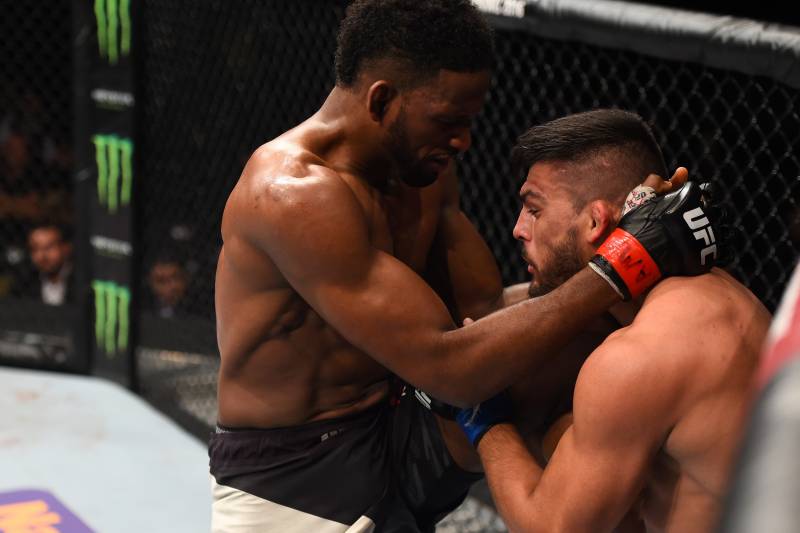 Jeff Bottari/Zuffa LLC/Getty Images
On the flipside, this is a brutal turn for Magny. The 30-year-old has been hovering around the perimeter of the UFC's welterweight top 10 for a long while now, bouncing in with wins over the likes of Hector Lombard and Kelvin Gastelum or bouncing out with stoppage losses to Demian Maia and Lorenz Larkin. While he ranks highly in the division, his footing near the top is far from secure and that makes losses like these sting badly.
That said, neither man's future is clear exiting this event.
Magny may have been steamrolled in this fight, but his hectic schedule should see him to return to the cage in short order, possibly before year's end. He could face (and defeat) a number of different top-10 competitors and immediately make up the ground he lost here.
Dos Anjos, meanwhile, has a strong on-paper claim to a title shot and possibly stands as the worst on-paper matchup in the UFC for champion Tyron Woodley, but he lacks the following to force himself into contention in any sort of timely way. His next fight could be a top contender bout against someone like Robbie Lawler on a big pay-per-view or he could end up on the slow road back to the top and face a hot upstart like Santiago Ponzinibbio on the prelims of a UFC on Fox event.
Things should become clear in the coming months, however, as the UFC looks to get Woodley back into the cage for one of their upcoming pay-per-view events.