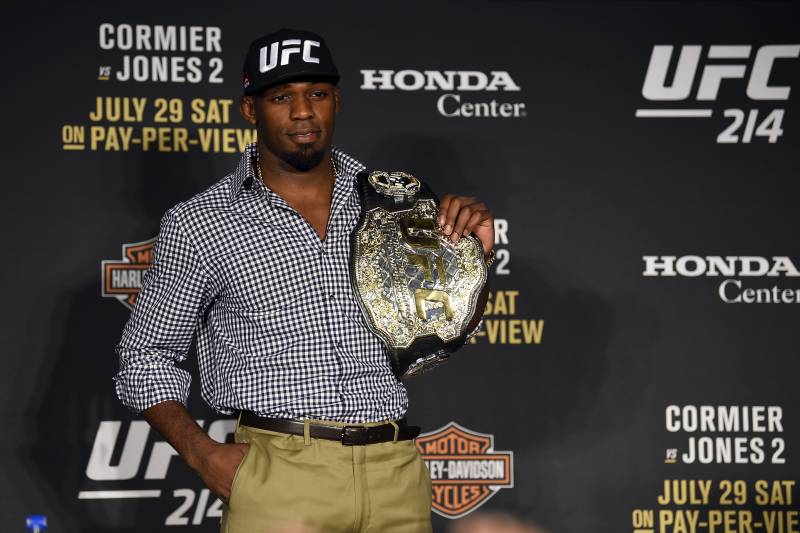 Jeff Bottari/Zuffa LLC/Getty Images
New details reportedly emerged Friday regarding Jon Jones' drug test following his UFC 214 victory over Daniel Cormier.
Ariel Helwani of MMA Fighting, citing multiple sources, reported Jones passed a drug test in the immediate aftermath of UFC 214, which was 24 hours after a different test came back positive. Helwani also noted Jones passed tests July 6, July 7 and July 29, but the July 28 urine test was the one that revealed a positive result.
Shaun Al-Shatti of MMA Fighting wrote Jones' post-fight test July 29 was a blood screening administered by the USADA after he beat Cormier.
Al-Shatti noted the July 28 urine test revealed a positive result for the anabolic steroid Turinabol. Helwani added details:
The UFC issued a statement Aug. 22 saying it was told of the positive test collected after Jones' weigh-in.
"USADA, the independent administrator of the UFC Anti-Doping Policy, will handle the results management and appropriate adjudication of this case involving Jones, as it relates to the UFC Anti-Doping Policy and future UFC participation," the statement read."Under the UFC Anti-Doping Policy, there is a full and fair legal process that is afforded to all athletes before any sanctions are imposed."
Brett Okamoto of ESPN shared a statement from Cormier's camp after the positive test that read in part, "in my mind, on July 29, I competed and I lost":
Jones won the match with Cormier with a third-round knockout, reclaiming the UFC light heavyweight title he lost in 2015. As Al-Shatti wrote, Jones was stripped of the previous title after a hit-and-run accident and then also lost the UFC interim light heavyweight title after testing positive for two banned substances before he was set to fight Cormier at UFC 200.
According to Al-Shatti, Jones could face a four-year suspension if the latest positive test holds up because he would be a multiple offender.