The UFC Fight Night 96 main event between John Dodson and John Lineker was the perfect cross section of pure excitement with legitimate high-stakes matchmaking.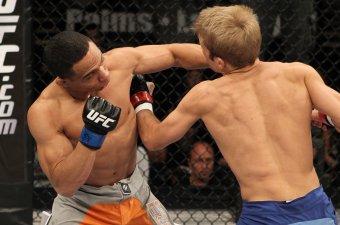 Both men were legitimate flyweight contenders, with Lineker knocking off a number of top 125-pound fighters in his day and Dodson twice challenging Demetrious Johnson for the UFC flyweight championship. Both men have found new life at 135 pounds, with Lineker entering Fight Night 96 on a five-fight winning streak and Dodson still holding a knockout win over TJ Dillashaw in his back pocket. 
Above all, however, both men rank among the most exciting fighters in the UFC's lower weight classes. Lineker was a fan-favorite knockout artist before jumping to 135 pounds, but he has become an interesting talent due to his formidable pressure game and ability to work foes over with punches high and low. Dodson's inhuman quickness and explosive strikes have led him to many victories and have consistently left spectators questioning their beliefs about what the human body is capable of. 
This fight was guaranteed fireworks, and while it didn't quite live up to the expectations, it was a solid, suspenseful bout.
Lineker opened the first by stalking forward, flicking kicks to the legs and body, and managed to control the center of the cage for the majority of the round on that pressure alone. However, while Dodson found himself working with his back to the cage, he still managed to find a few good chances for offense. A few good moments from Dodson were put on the proverbial scale opposite minutes of control from Lineker, which left the scores for Round 1 up to the discretion of the viewer.
They're exchanging leather in Portland!! What a fun second round!! #UFCPortland https://t.co/zMfaPjLsQL

— #UFCPortland (@ufc) October 2, 2016
Round 2 was more of the same to the point, but without any sort of counterstriking by Dodson. Lineker would eventually stop, stand with arms akimbo and taunt Lineker, with Dodson doing the same right back to him. The action was reset and immediately followed with a knee to the cup by Lineker. The action was once again reset but led to more straightforward "Lineker goes forward, Dodson goes backward" non-action.
The third started with a more active Lineker, tagging Dodson with a hard right early and going back to a leg-kick-heavy attack. That evolved into heavy combinations, with some hard shots landing. Dodson managed to avoid taking any serious damage, but he failed to gain any momentum of his own. 
Dodson began opening up in the fourth, landing multiple left hands and giving Lineker the occasional reminder he was the superior wrestler. Still, he couldn't find any way to get off the perimeter of the cage, which eventually gave way to Lineker stalking forward and landing hard shots.
By the fifth round, Lineker was beginning to show some exhaustion, with his hands lowered and his feet flat. Dodson wasn't his usually spry self, but he still had the fuel to muster up some lunging left hands and a superman punch or two. A scramble that saw Dodson assume backpack position on Lineker gave him the most decisive 10-9 of the fight. That said, the final horn sounded with the winner anyone's guess, with fans, fighters and pundits split down the middle on who won.
The judges, too, were split, but Lineker managed to get the nod from two of them, for a 48-47, 47-48, 48-47 decision win.
Very close fight. I had it for Dodson but can't hate that decision at all. We really need to see Lineker vs. Garbrandt soon.#UFCPortland

— Damon Martin (@DamonMartin) October 2, 2016
It's a critical win for the Brazilian. Despite the fact he missed weight for the bout by half a pound, he is cemented into the top 10 at a time where a slew of young talent is overthrowing the old veterans. He may not be in reach of title contention quite yet, but a loss would have been disastrous for him.
Unfortunately for Dodson, this loss is equally calamitous. 
Dodson left the flyweight division on the assumption he could skate his way to a title shot at 135 pounds without too much difficulty. This loss, however, knocks him far out of the running. With his days as a contender at 125 pounds officially done, he is left with nothing to do and nowhere left to go.