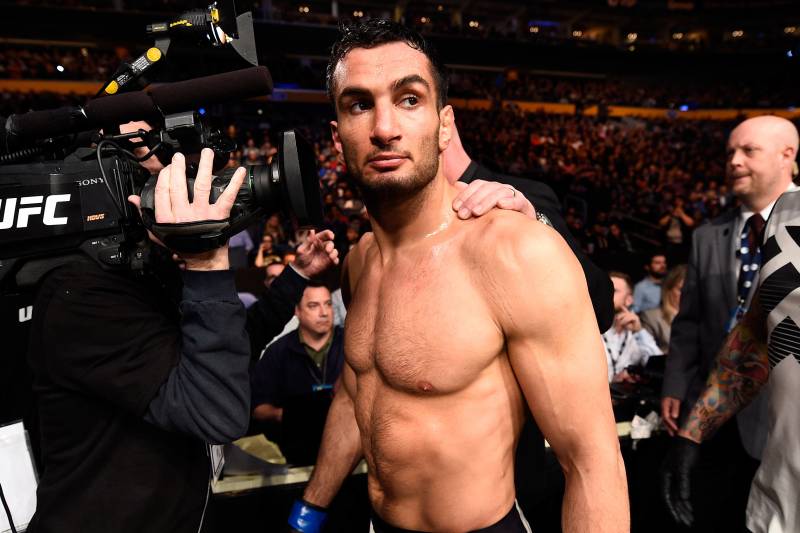 Jeff Bottari/Zuffa LLC/Getty Images
Gegard Mousasi's Bellator MMA debut this weekend left a lot of people feeling sour. Despite struggling to mount any offense on ex-champion Alexander Shlemenko because of bad swelling around his right eye, Mousasi took home a unanimous-decision win.
The scorecards were met with boos and hisses both live and on social media, something that doesn't sit well with the fighter. Speaking with Ariel Helwani on Monday's edition of The MMA Hour, the veteran defended his performance and had two words for anybody that didn't enjoy his victory.
"He punched me right in the eye in the first minute so I was fighting on instinct, trying to survive," he said (h/t MMA Fighting's Alexander K. Lee). "I was fighting with one eye for almost three rounds so it didn't go the way I wanted, but a win is a win. To the haters, they can suck it."
In the early goings of the fight, Mousasi was tagged clean by an overhand left from Shlemenko that immediately shut his eye and possibly broke his orbital. The loss of depth perception greatly impacted his ability to compete, resulting in whiffed punches and desperate takedown attempts. Shlemenko was in full command in the third round, but by that point, Mousasi had already earned enough points to take the contest via decision.
The comparatively weak performance by Mousasi restarted discussion on social media about a number of topics, including the struggles of UFC fighters in Bellator (and vice versa) and lingering questions about where Mousasi stacks up in the highly competitive 185-pound division. Those topics, however, are of no concern to the former Dream champion. He has more pressing matters at hand.
"I'm not pissed off. I don't care," he said later. "I'm going to eat lobster. I'm going to sit in my farm, drive a tractor and my car. Who cares about these guys? I made my money. I have a better life than all of these bums."
Despite the controversy, Mousasi's win over Shlemenko lines him up for a crack at the middleweight title, which will be held by the winner of the championship bout between Rafael Carvalho and Alessio Sakara set for December 9. Look for Mousasi's shot to come at some point in early 2018.