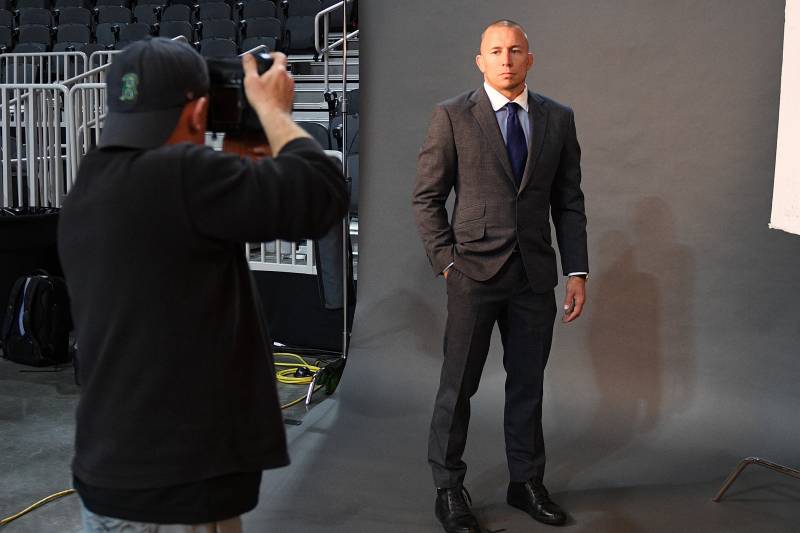 Jeff Bottari/Zuffa LLC/Getty Images
Georges St-Pierre wasn't always the great warrior he is today.
In fact, the warrior spirit that pushed him to become the greatest welterweight of all time, and to soon return for a middleweight title fight against Michael Bisping at UFC 217, was developed out of a childhood on the wrong end of bullying.
St-Pierre has long spoken about his tough childhood, where his time as a small, timid lad in Quebec led to him catching more than his share of beatings in the schoolyard.
Today, though, St-Pierre is a global star, an icon in his native Canada and an inspiration to many for his gentlemanly manner and respect for martial arts tradition in the chaos of life in MMA. Part of that manner is the ability to forgive and forget.
St-Pierre recently told Hot 97 that he ran into one of his childhood nemeses on the street, a man who routinely wailed on him back in the day. Their fortunes, it appeared, had gone in drastically different directions since then, though, as the man was begging passers-by for money.
"I don't know if he was homeless, but he was asking for money," St-Pierre said. "When he saw me, he recognized me."
Apparently forgetting their past, or in straits dire enough to ignore it and shoot his shot, the man asked St-Pierre for help. St-Pierre replied: "Man, what are you doing here? You're a tall guy, you're good looking. What the hell?"
He handed the man some money and continued his admonishment.
"I gave him a few dollars and I [told] him: 'Get out of here…you should be ashamed, you should be embarrassed of what you're doing, man. A lot of guys would kill to be like you. You know you're full of potential. You're good looking, healthy, tall and strong. Go do something with your life," St-Pierre recalled.
After going on his way, St-Pierre was told by his family that there was recently a visitor to his childhood home, still occupied by his parents: Mr. Bully. And Mr. Bully was something of a different man than the one St-Pierre had met on the street.
"He went to my house where my parents live. He knocked on the door, and he said: 'Can I talk to Georges?'"
St-Pierre's father informed him that his son had moved out, and the bully continued.
"He goes, 'well I met him a few months ago, and [he] said something to me to shake me up and I just want to say that he changed my life. Now I have a job and I'm doing well, and I want to say thank you. When you see him, tell him I said thank you.'"
Pretty typical of the nice guy act St-Pierre has become known for in his MMA career, but good to know it extends beyond the realm of martial arts and fight promotion and into his off days walking the streets. 
UFC 217 goes down November 4 at Madison Square Garden.
Check out the full interview below: