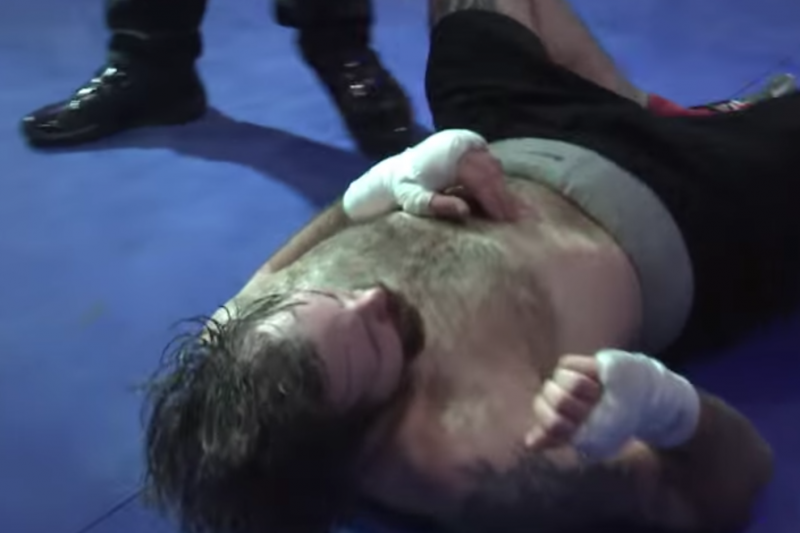 Cody McKenzie came up short in his bare-knuckle fight.
Screenshot from BKB's YouTube video
February 8, 2017
When the bright lights of the UFC fade, MMA fighters have two options: hang up the gloves and call it a career, or press forward and ply their trade in less prestigious organizations.
MMA fighters have more options than ever these days as far as promotions go, from the well-known Bellator to countless regional promotions scattered across the country (and plenty of international promotions too). 
One place you don't automatically think of MMA fighters showing up in is bare-knuckle boxing. But the sport has seen a surge in popularity in recent years, with 73-0 Bobby Gunn becoming the face of it. 
BKB, a U.K. promotion, seems to be welcoming in former UFC fighters. The promotion, which recently put up a YouTube page, has featured former UFC fighters Joe "Diesel" Riggs and Cody McKenzie. (The two actually faced off in October in an MMA fight for Z Promotions; Riggs TKO'd McKenzie in the first round.)  
Riggs, who has racked up a whopping 60 MMA fights in his career, fought in the UFC as recently as February 2016, when he lost by TKO to Chris Camozzi. The organization released him shortly thereafter. He put together a 5-7 record inside the Octagon. 
McKenzie, owner of 26 MMA fights, compiled a 2-5 record with the UFC. He last competed inside the Octagon in December 2013. Since then, he's fought for seven different promotions, going 2-6 during that time. 
Which brings us full circle to their bare-knuckle boxing debuts. 
Riggs took on a gentleman by the name of Christian Evans in a light heavyweight title fight, and Diesel had trouble controlling his MMA impulses. Early on in the fight, the referee had to deduct points for a takedown and then throwing an elbow. Riggs later settled in and went on to win by unanimous decision.
Now a champion for BKB, it'll be interesting to see if Riggs defends his belt or if this was a one-off thing and he returns to what he knows in MMA. 
McKenzie didn't fare as well as Riggs.
While he showed heart, he was no match for BKB middleweight champion Jimmy Sweeney. The experienced Sweeney knocked the novice McKenzie down a total of five times before the ref had finally seen enough and stopped the fight. Based on his performance, it would be best for McKenzie if he avoided any more high-level bare-knuckle boxers.