The hype may be for an upcoming Pay Per View in Brooklyn, but Fight Night London absolutely delivered the goods and demonstrated once again why armchair fans overlook events like these at their peril. A sold out crowd at The O2 Arena and Fight Pass subscribers around the world were treated to a wild night of surprising and entertaining battles, and the storylines emerging are significant.
These are the Fight Night London talking points.
A Changing of the Guard?
If the last five or so months have seen a narrative developing about the youth movement or the changing of the guard, Fight Night London did nothing to alter it.
29 year-old Alexander Volkov, a champion in two previous promotions, not only handled former champion Fabricio Werdum, but often looked bored and frustrated doing so. Even at 40, Werdum is no slouch. He's looked great in his previous two fights, and early in the first he damaged a grounded Volkov with some heavy fists. But as the fight progressed and Volkov refused to go to the mat, it was clear there was nothing Werdum could throw at him to turn the tide, and he went home with not only the win, but with Performance of the Night honors.
"I think I deserve a title shot…maybe it's my time," he remarked at the post-fight presser. He'll have to wait for the outcome of the Stipe/DC super-fight, but with a four-fight win streak and an undefeated record, it's certainly hard to argue with him.
Elsewhere on the card, big wins for Tom Duquesnoy (age 24), Leon Edwards (26), Danny Henry (29), Dmitry Sosnovskiy (28) and even a losing effort by Magomed Ankalaev (25) will do nothing to quell the "next generation" talk anytime soon.
A Record So Nice They Set It Twice
When Paul Craig, flat on his back, eyes closed and losing badly, somehow found enough of his wits to attempt and then execute a triangle choke for the win, it was already an ending out of a Hollywood movie. What made it all the more fantastical is that his opponent (previously undefeated Magomed Ankalaev) tapped out with less than one second remaining in the fight. Official time was 4:59, but it was even closer than they could measure; mere tenths of a second remained. The heroic effort earned Craig the second Performance of the Night Bonus AND he entered the record books for the latest finish ever in a three round fight.
Not to be outdone, Leon Edwards went in for the finish on Peter Sobotta and scored himself a TKO, again at 4:59, tying the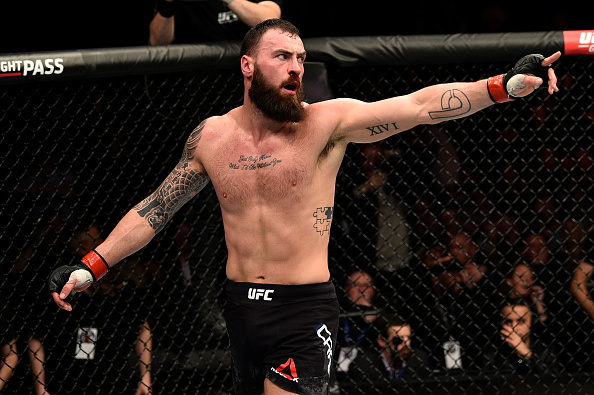 record set less than an hour earlier.
Arguments from the cheap seats immediately erupted on Twitter, asking aloud why Ankalaev, who had been rag-dolling Craig for three rounds and would have won the fight anyway, tapped out when he could have just gone to sleep and got the win. Similarly, the referee in the Edwards bout got some heat for calling a TKO when in just another second he could at least have given Sobotta the dignity of a decision loss.
Both of those arguments are overly simple and dismiss the intuitions of the participants. Ankalaev knows his own body better than anyone, and when a man that tough decides it's better to tap, you know he's fearing his health. Similarly, stopping a fight, as late as it might have been, is still the right move if you believe the fighter taking the damage is endangering his health. As close as both were, they were the right call.
What's Next For the Veterans?
Fabricio Werdum really thought 2018 was his year, and that the frantic pace at which he had been accepting fights (three in six months) would lead him back to the doorstep of reclaiming his hardware. His previous two wins were convincing, and after watching them it wasn't so hard to imagine the Vai Cavalo of yore making a victory lap. But with Volkov likely to jump him in line, and names like Ngannou, Overeem, Lewis and Blaydes looming nearby, the path for Werdum is suddenly much longer, particularly a fighter aged 40.
London stalwart Jimi Manuwa, who had an outstanding effort in his Fight of the Night rematch against Jan Blachowicz, similarly finds his path getting longer after coming out on the wrong end of the decision. He had mused openly earlier in the week about battling Cormier for light heavyweight title (if DC ever came back to the division), or perhaps claiming it for himself in Cormier's absence. Instead, Poster Boy finds himself on a two-fight losing streak at age 38. And while calls himself a "young 38," he nonetheless concedes to having about two years left in the sport. A belt is still possible, no doubt, but the loss in London won't make it an easy hill to climb.
Steve Latrell is a digital producer and writer for UFC.com. Follow him on Twitter at @TheUFSteve