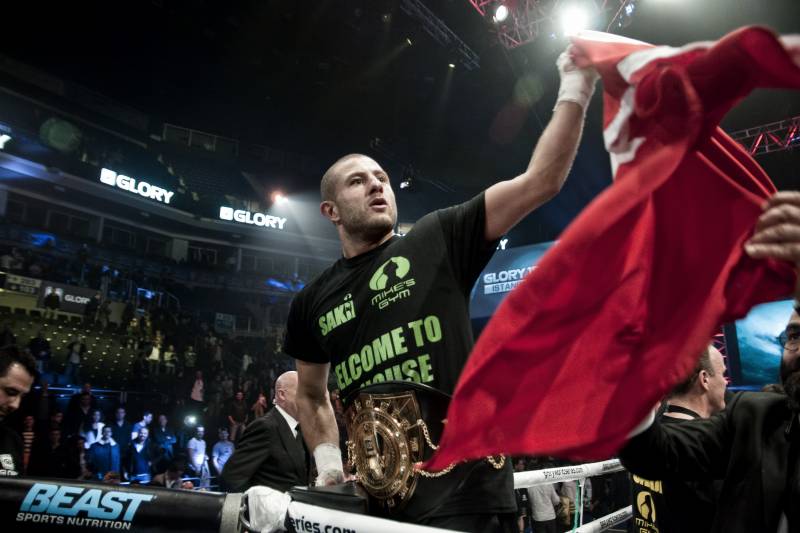 Pedro Gomes/Getty Images
You have to admire the pure audacity of Gohkan Saki.
As the former K-1 and Glory kickboxing champion prepares to make his UFC debut against Henrique da Silva on Saturday at UFC Fight Night 117, Saki is setting his own expectations sky-high.
"I'm glad I finally can announce that I have signed an exclusive long-term contract with the UFC," Saki wrote on his Facebook page in May. "[I am] the best investment the UFC has made since Conor McGregor."
Then there's his social media presence, which is, in a word, brash:
All told, it's clear Saki's not exactly taking the cliched one-step-at-at-time approach to his fledgling MMA career—and perhaps with good reason. If he can channel his experience, athleticism and fearsome punching power into success in his newfound sport, his ceiling might be as a future title contender in the puddle-shallow UFC light heavyweight division.
Considering it's at least possible that the 205-pound weight class will now be moving forward without Jon Jones—in the wake of the longtime titlist's latest drug test failure—perhaps Saki can even one day wear the gold.?
Despite the fact he comes to the Octagon sporting an 0-1 professional MMA record, there's ample reason to believe the Turkish Tyson can be successful in the Octagon. He spent 15 years earning his keep at the highest levels of kickboxing, facing off with the likes of Alistair Overeem, Tyrone Spong, Ray Sefo and Melvin Manhoef.
Saki compiled an 83-12 record—including 59 knockouts—with one no-contest and earned a reputation as one of the toughest outs in combat sports. He even famously fought Overeem in the final of the 2010 K-1 Grand Prix tournament with a broken arm (and lost).
Another thing to admire about Saki? The knockout artist has impeccable timing.
After two years away from the ring, the Netherlands native, who turns 33 on October 19, is poised to enter a light heavyweight division that is both starved for new stars and as competitively wide-open as it has ever been. Depending on which way the appeals process goes from here, Jones could be facing up to a four-year ban. If that came to pass, it would mean everything we thought we knew about the 205-pound pecking order would be null and void.
After losing to Jones via highlight-reel knockout at UFC 214 in July, Daniel Cormier has been reinstated as champion. At age 38, however, and with his drawing power assumedly at an all-time low, Cormier's future remains unknown.
If ever there was a time for a new and popular force to take the division by storm, this is it.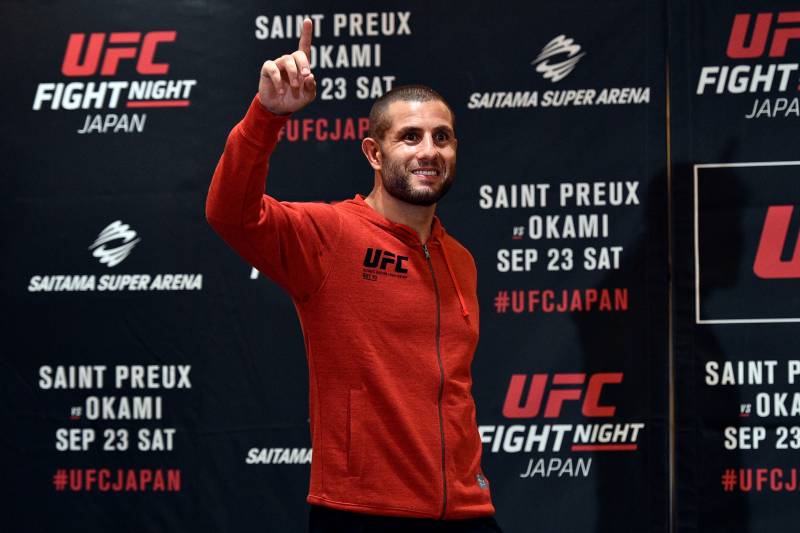 Jeff Bottari/Zuffa LLC/Getty Images
Perhaps that opportunity was too much for Saki to pass up after sitting idle for so long.
"I stopped for two years, and I felt an emptiness," Saki said this week, via MMAjunkie's Steven Marrocco. "I came back on a bigger stage, the biggest martial arts organization in the world, the UFC, with a lot of challenge for me. I am hungry again, and it's time to open a new book and finish my career in the right way."
To do that, Saki will have to prove he's much more than just a stand-up fighter. At the very least, he'll have to have widened his skill set to include enough defensive wrestling to keep people from taking him down.
Can he manage it? At the time of his UFC signing, Bleacher Report's Scott Harris was only willing to give his chances a soft "maybe."
"Clearly, he'll be the best striker in the UFC light heavyweight division immediately upon arrival," Harris wrote. "Just as clearly, his ground game will be an area his opponents will work to exploit. But there's a pretty good chance UFC matchmakers won't throw him into the cage with Cormier right off the bat, either."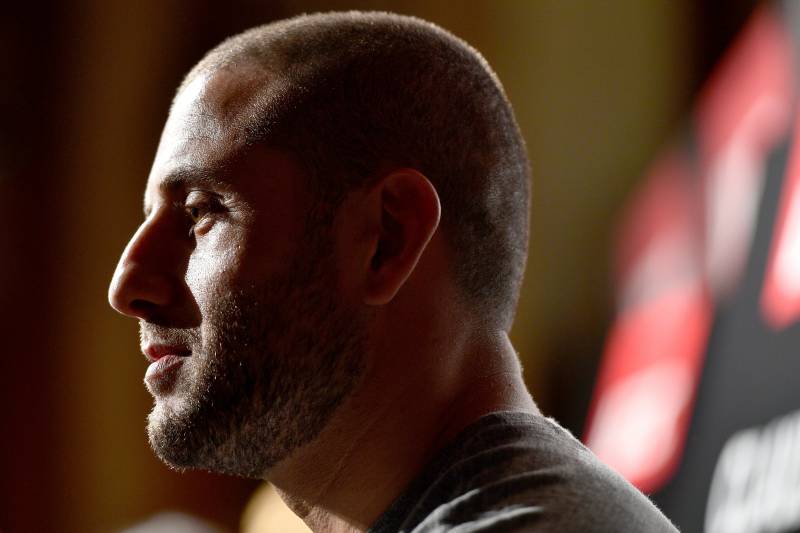 Jeff Bottari/Zuffa LLC/Getty Images
With just a few days to go before UFC Fight Night 117, the Da Silva matchup makes Harris looks downright prophetic. From the outside looking in, this fight shapes up as a nice, hanging curveball that Saki can knock out of the park in his UFC debut.
After starting his career on 10-0 tear fighting exclusively in Brazil, Da Silva won his first two UFC fights but has since dropped off a cliff. He comes into this bout amid a three-fight losing streak that most recently saw him get knockout out by Ion Cutelaba in just 22 seconds in June.
Da Silva is primarily a muay thai fighter and is listed as a purple belt in Brazilian jiu-jitsu. He'll have a slight reach advantage over Saki but otherwise matches up as just the sort of competition the decorated kickboxer should want to face in his first UFC bout.
Saki's decision to leave the Glory organization and fully dedicate himself to MMA has MMA Fighting's Mike Chiappetta sounding fairly complementary about his approach so far:
"After sporadically training in the sport's various disciplines in the past, this recent stretch has been immersive, and Saki has shown his willingness to put himself in uncomfortable positions in order to achieve growth, regularly traveling to learn with different camps. Among his most notable trips was a five-week sojourn to Sweden's AllStars Training Center to work out alongside intra-divisional contenders Alexander Gustafsson and Ilir Latifi. Saki has also trained extensively with the Turkish national wrestling and boxing teams, along with Brazilian jiu jitsu black belt Ertan Balaban."
A lot, of course, remains to be seen.
We don't yet know if Saki will be able to shore up his ground skills enough to compete at the UFC level. We don't know if his somewhat diminutive size—6'0" and 220 pounds—will allow him to hang with the true giants of the division. We don't know if his speed and technical kickboxing will be enough to outweigh those potential drawbacks.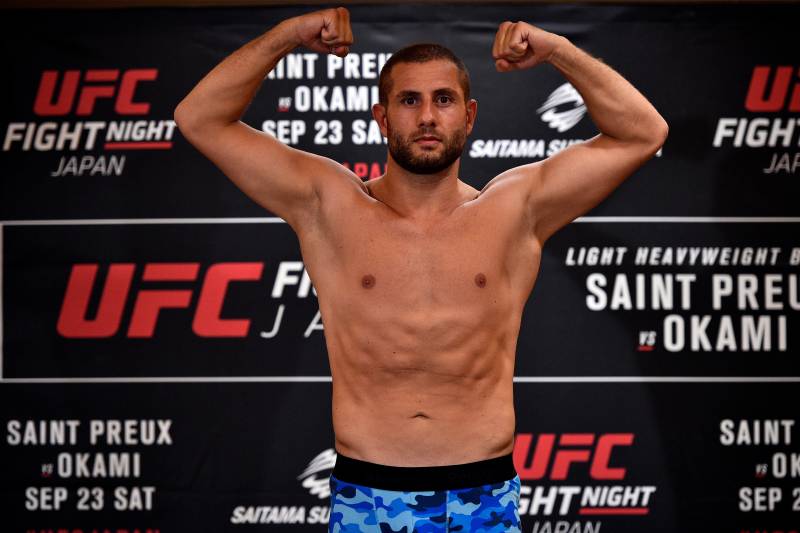 Jeff Bottari/Zuffa LLC/Getty Images
But his mere presence here is enough to spark some excitement.
It has been a long time since the 205-pound division had a dominant pure striker in its midst. For viciousness, Chuck Liddell, Vitor Belfort and Rampage Jackson spring to mind as champions. For technique, Lyoto Machida does, too. Alexander Gustafsson has always been long on potential but has fallen short in big spots.
Saki might have an uphill climb ahead of him if he truly wants to be champion. He might end up being surprised how hard it is to become the next McGregor.
For now, however, the buzz about his impending debut feels appropriate.
And the light heavyweight division has no choice but to take buzz wherever it can get it.