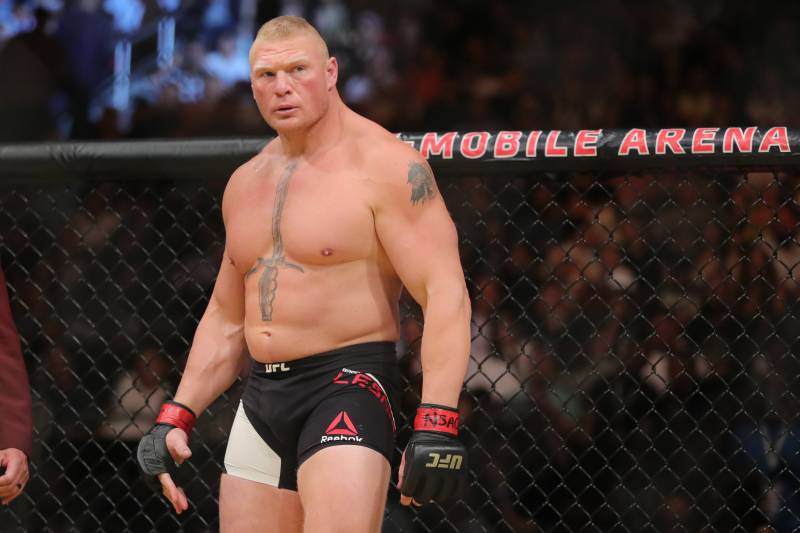 Rey Del Rio/Getty Images
UFC President Dana White said on a recent episode of ESPN's Dan Le Batard Show that WWE would not allow Brock Lesnar to fight again in the UFC while under contract with WWE.
During the interview (h/t Damon Martin of MMA Weekly), White said WWE had no interest in letting Lesnar compete for UFC again after previously allowing him to in 2016: "Lesnar was still under contract with WWE till next August. Who knows what would have happened. I don't count my chickens anymore, I'll tell you that. ... They didn't want to do that again. You saw what happened last time he was under contract and it doesn't look good for anybody."
Lesnar fought and defeated Mark Hunt at UFC 200 while still under contract with WWE, but it was later changed to a no contest when Lesnar tested positive for anti-estrogen agent hydroxy-clomiphene.
That resulted in Lesnar getting suspended from MMA competition for one year by the USADA.
Despite that, rumors emerged regarding a potential bout between Lesnar and Jon "Bones" Jones after Jones and Lesnar called each other out publicly.
Jones failed another drug test in August, however, squashing any possibility of a big-money fight with WWE's Universal champion in the near future.
If White's information is correct, the 40-year-old Lesnar will remain under contract leading up to next year's SummerSlam in August 2018.
There has been talk of WrestleMania 34 in New Orleans potentially being his final match, but White's comments would seem to suggest there will be other matches beyond that.
Another UFC fight may not be in the cards, and if it is, all signs point toward it occurring after Lesnar decides to end his WWE career.
Listen to Ring Rust Radio for all of the hot wrestling topics. Catch the latest episode in the player below (warning: some language NSFW).