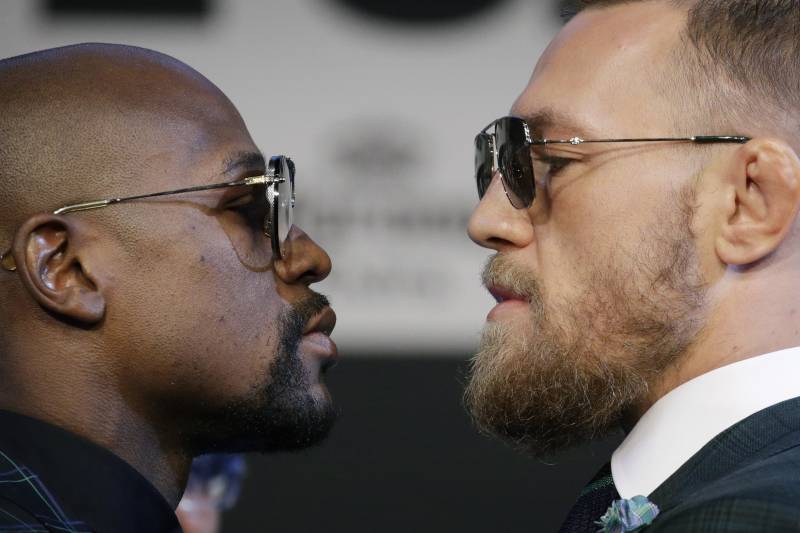 John Locher/Associated Press
UFC President Dana White is defending Conor McGregor after Floyd Mayweather Jr. said the mixed martial arts star needed to use IV bags to stay hydrated in preparation for Saturday's megafight. 
Speaking to TMZ Sports about the allegations Mayweather levied against McGregor, White said there was "nothing true about Mayweather's claims."
Mayweather made the allegations against McGregor during an interview with MMA Fighting's Ariel Helwani at the boxing legend's club in Las Vegas. 
In the interview, Mayweather said he got the information from a "strong source" and repeated "rumor" and "allegedly" regarding his allegations against McGregor, as TMZ Sports noted.
Mayweather knows about the controversy associated with using an IV bag to remain hydrated while preparing for a fight. Bob Bennett, the executive director of the Nevada State Athletic Commission, said the United States Anti-Doping Agency should not have permitted Mayweather's use of an IV prior to his fight against Manny Pacquiao in May 2015, per Lance Pugmire of the Los Angeles Times. 
During Wednesday's final pre-fight press conference, McGregor said Mayweather "needs to shut his mouth" regarding his weight leading up to the weigh-in on Friday, via MMAjunkie's Martin Rogers. 
Mayweather and McGregor agreed to a 154-pound boxing match. McGregor has fought in three different weight classes between 145 and 170 pounds in his MMA career.