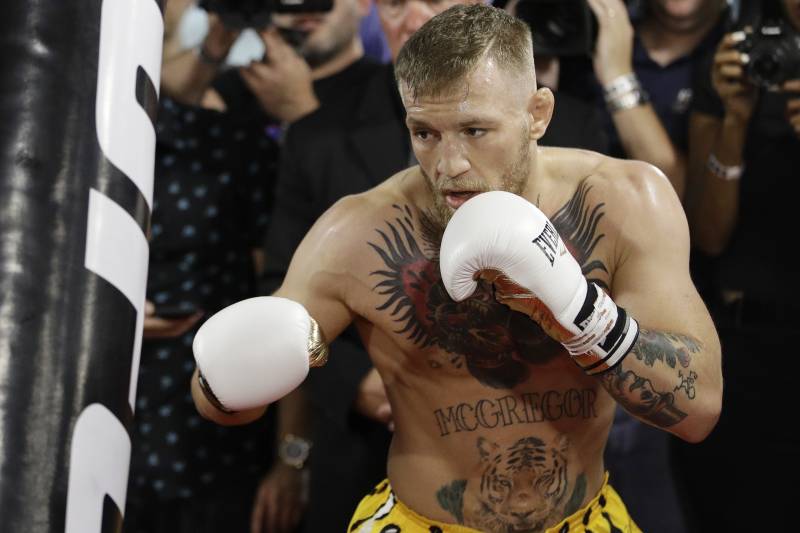 John Locher/Associated Press
Paulie Malignaggi is clearly not happy with Conor McGregor and the two had a public confrontation in Las Vegas Tuesday.
Helen Yee of NBC Sports Radio captured the exchange (h/t TMZ Sports) (Warning: Video contains NSFW language):
After Malignaggi yelled at McGregor, the Irish fighter replied, "You got your ass whooped. Get over it."
The animosity between the two started with a sparring session during McGregor's preparation for his bout against Floyd Mayweather Jr. on Aug. 26.
UFC president Dana White released a video of McGregor knocking out the former welterweight boxing world champion:
Malignaggi said the clip was taken out of context and he really was pushed and tripped. The 36-year-old boxer has since left McGregor's camp and has had harsh words for the man he was trying to help train.
"This guy is one of the biggest dirtbags I've ever met in my life—bar none," he said on The MMA Hour, via Simon Samano of MMA Junkie. "I was amazed at what a dirtbag this person is. I don't care if we never speak again. My life is fine if I never see Conor McGregor again."
He clearly did see McGregor again and the resulting exchange wasn't surprising, though McGregor is likely focused on the biggest bout of his life on Saturday.