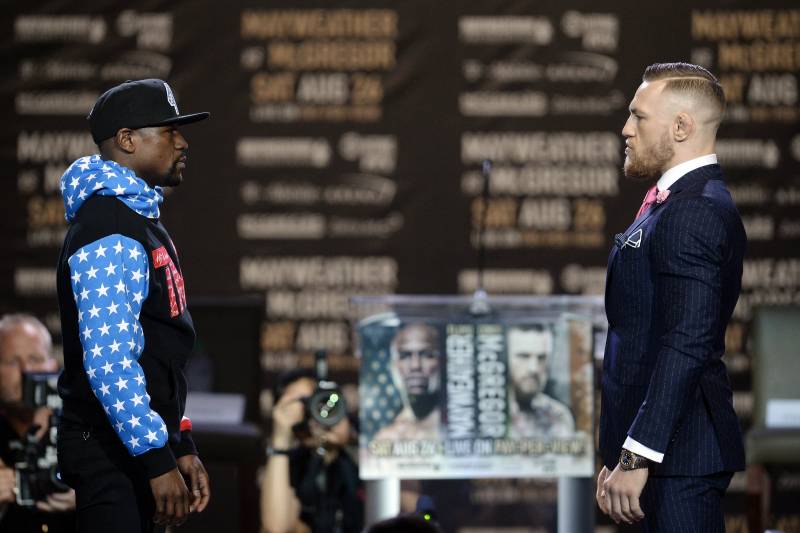 Gary A. Vasquez-USA TODAY Sports
The press tour for the Aug. 26 clash between Floyd Mayweather Jr. and Conor McGregor rolled on Wednesday at the Sony Centre for the Performing Arts in Toronto, where Money and The Notorious sparred with more smack talk as hype continued to percolate in advance of the megafight. 
But unlike Tuesday in Los Angeles, the two didn't waste any time getting in each other's faces. 
The jawing commenced immediately after introductions wrapped up, and expletives were flying left and right, as Yahoo Sports' Kevin Iole and MMA Fighting's Ariel Helwani explained: 
Fox Sports UFC relayed video of the intense moment: 
Once pleasantries had been exchanged, McGregor snagged the mic and took aim at Mayweather and Showtime. 
Not only did McGregor implore the pro-Notorious crowd to chant "F--k the Mayweathers," but he also called Showtime's Stephen Espinoza a "bitch" and a "weasel" after he alleged the network cut his microphone out Tuesday. 
The UFC lightweight champion also continued to harp on Mayweather's status as an over-the-hill contender who won't be able to hang once they enter the ring at T-Mobile Arena in Las Vegas. 
"When Floyd was 28, he was on the Oscar De La Hoya undercard, and that's just facts," he said. "Floyd is an old weak bitch." (Warning: Video contains NSFW language.)
Mayweather, of course, was armed with plenty of responses, even as he approached the podium to jeers of "Pay your taxes" in hostile territory. 
"One thing we do know," Mayweather said, "the f--king fans can't fight for you." 
Mayweather later clapped back at McGregor for attacking his wallet, this time challenging him to bet his portion of the purse on the outcome of the fight. 
"No f--king problem," McGregor said. "Send the contract here, it's done."
And while the undefeated 40-year-old drew McGregor's ire for allegedly being past his prime, he spent a good portion of his time chiding the Irishman for having losses, including a tapout, on his resume. 
"We already know this bitch right here, he likes to quit," Mayweather added before draping himself in an Irish flag. "Real killers don't quit."
But when all was said and done, the day belonged to McGregor, who fed off a raucous crowd and put on a better show in The Six, as several observers noted: 
The international tour of trash talk will resume Wednesday at Barclays Center in Brooklyn and come to a close Thursday at SSE Arena in London.