DISCUSS THIS STORY IN THE TOTAL-MMA.COM FORUMS
Are you watching TV and hoping to see a nice roundhouse kick on display? I guess you're in luck, because long gone are the days when watching Jean Claude Van Damme take on Tong Po in Kickboxer was the only game in town. The best Muay Thai site on the web recently asked, what's up with all the fighting on TV these days? I love this stuff, but still I'm glad I'm not the only one wondering what it says about our culture that there are about half a dozen of these "true life" fight-oriented shows. In fact, we've seen a few new ones debut since Mai wrote that article. It's not so much that a monster was created in Ultimate Fighter & Contender, both of which seem to be on their last legs. It's more that we spilled water on a gremlin and ended up with another five of 'em: all of which have their own personalities.
Anyway, I got sick as a dog recently and had time to watch a bunch of these. A cough syrup replaced my usual beverage of choice, so… please forgive what follows.
First, Contender: Asia debuted in Asia and the Pacific Islands this week and video has been floating around the web as well. (You just can't stop that from happening, apparently. As I remember the story, one of the guys involved in the shows production posted to K-1Fans.com that he emailed the trailer, with encryption, early in the show's genesis, to a producer. It ended up on Youtube that afternoon. Ouch!) The show features such top talent as John Wayne Parr and Naruepol Fairtex along with some new guys.
I'm not going to spoil it for anyone, but simply put, it follows the conventions that the original Contender & Ultimate Fighter shows created. Seeing all that Muay Thai talent training and fighting is a rare treat, even if the fights are clipped down and "aided" by sound effects. But I doubt I'll watch much more of it. The races to decide which team will play matchmaker were tired halfway through one season of Contender, and I'm surprised they have being brought back. Figuring out how all these guys interact can be fun, especially as they're as varied a lot as you'll find. But come on. Arguments over the hummus and asparagus were never really that funny, were they? Or was that another one of these shows? Eh, blame the cough syrup. On a rating of one to five, I rate Contender Asia TWO Tong Po's. That's one for a sweet Ram Muay or two, and another just giving these guys in a struggling sport the chance to make a payday they deserve.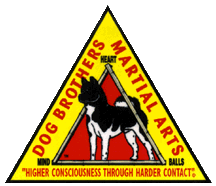 Also this week, the National Geographic Channel debuted Fight Club, a perfectly nice hour-long documentary about Filipino martial arts practitioners "The Dog Brothers." We meet the Brothers as they host The Gathering, where devoted artists square off, mainly stick fighting, with minimal protection. Fighters are paired on the spot to fight in bouts which are stopped when someone concedes or can no longer properly defend himself. It was interesting to see how much groundfighting was on display — armbars and chokes put an end to more than one stick fight.
The show was short on history or context of the martial arts, but long on the ethos of regaining a lost masculinity. We learn that no championships are awarded, no payouts are accepted at The Gathering, in fact, not a single winner is announced in the evening's contests. Fighting hard for its own sake seems the only glory to be won. We get familiar with of the idea that all this fighting makes this world a better place, that we need releases for our aggression to maintain a peaceful society.
To the show's credit, a dissenting view is presented, as a study may indicate that involvement in violence begets more angry and violent behavior. I hope that guy's wrong and rate this FIVE servings of balut out of five. It's a slick show which presents many different experiences in the arts, more than one skillset on display, and more than one perspective on the whole matter of fighting in general. You can't beat that.
My TV fight quest finished with an episode of Fight Quest, which features two guys going around the world learning a martial art which they will use in a contest at the shows end. The show is widely regarded a rip-off of the similar Human Weapon but it's been claimed that it was in production first. I don't really know or care. I do know that FQ is definitely the better of the two shows.
FightQuest's hosts are the mellow Jimmy Smith, a pro MMA fighter who actually has a win over his Human Weapon counterpart Jason Chambers (I love it), and the even mellower Iraq war vet Doug Anderson. This is a good thing. Human Weapon's hosts and their goofy enthusiasm have grated on me to the point I can't watch them learn ninjitsu and wire-fu, and tell me about how Russians used their SAMBO to fight off the Afghans. Yes, clearly the terrorists have won.
More importantly, FQ just appears a little more honest in its presentation — its theme is "we'll go someplace to train, and then test ourselves with some form of fight at the end," and not "we'll engage with a HUMAN WEAPON, and everyone will pretend Chambers can hang with Yoddecha." There's also no MTV-style editing, nor distracting voiceovers. There's actually something of a soft touch here.
Of course, it's TV, so they have their share of theatrics, like where they went to Mexico to box under Nacho Bernstein and ended up running the steps Rocky-style at pre-Columbian ruins. That's a good kind of theatric though; we see a bit more of the diversity of the country and I bet rural Mexican fighters really do that anyway. The boxing episode really did a great job of showing the dedication that Bernstein, his staff, and fighters all have to the sport, and how much the pride the people of Mexico have in their boxing heroes. They couldn't have picked a better setting to explore the gentlemanly art.
FightQuest gets tres ganchos al higado out of five, and I'm done. Don't tell anyone at my gym, but I'm ready to watch America's Next Top Model or something.