Disclosure:
The products shown here are not made or sold by this website (MMA-Core.com). The "Buy Merch" button is an affiliate link and MMA-Core will earn a commission with NO additional cost to you if you click through and make a purchase.
Tom DeBlass Half Guard Domination Instructional 4 DVD Set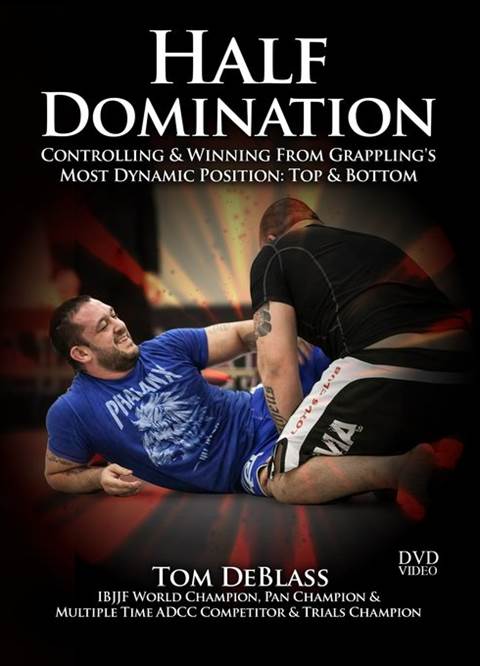 Learn The Half Guard Secrets One Of America's Best Grapplers Uses To Frustrate & Destroy All Of His Competition – Even Though He's a "Big Guy" Over 30,Tom DeBlass' "Half Domination" 4 DVD Set Will Simplify & Slow Down The Game To Show You An Easy Set Of Grips & Moves That Will Hold Even The Most Explosive Young Beasts In Check.

DVD 1:
Basic Shield Z Guard
Z Shield Entry With Underhook
Attacking Near Side Leg/Back Door
Countering A Strong Wizzer: Sweep To Over/Under Pass
Weave Counter To Arm Drag/Under Hook
Knee Flare Sweep
... MORE

DVD 2:
Getting Past The Knee Shield
Countering The Under Hook
Kimura From Top Half
Guillotine From Top Half
Weave Pass From Top Half
ShinOn Shin Pass
... MORE

DVD 3:
Elbow Trap Sweep From Smash Half
Alternate Recovery From Smash Half
Reframing With The Hook
Butterfly Hook Sweep
Butterfly Half Guard Reversal
Spartan Push
... MORE

DVD 4:
Guard Retention Workshop
*Price listed here does not reflect discounts from sales and promotions that might be available from the seller or merchant.